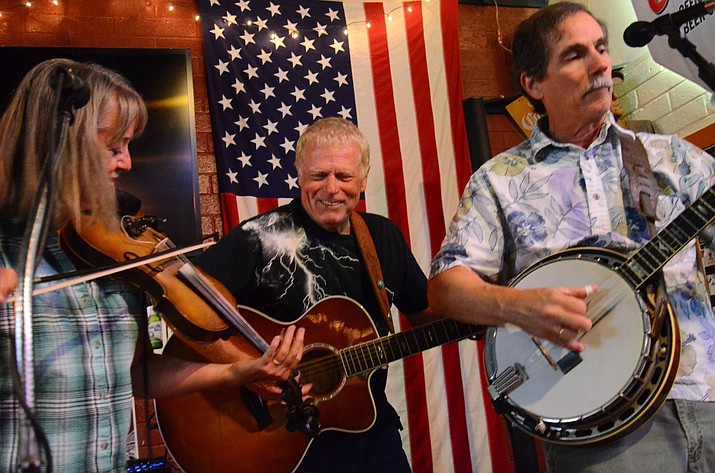 Originally Published: October 12, 2017 9:41 p.m.
The grassy Roots-Americana trio Thunder & Lightnin' is back in the yard at Far From Folsom Sunday, Oct. 15, from 2 to 5 p.m.
Having just celebrated their first anniversary and 41st show at Cornville's Grasshopper Grill, the trio is primed to do it again here at Far From Folsom.

"We are always excited to be back in the yard at Far From Folsom," guitarist Steve Estes says, adding, "There's the perfect combination of a great performance venue, great staff, supportive owners and a clientele that seeks out the best music. We'll come back here any time."
The show features Rob Gibbs' banjo, guitar and harmonica work, Belita Mullinax's up-the-holler fiddle authenticity and Steve Estes' both orchestral and percussive work on 12-string guitar. The trio's vocals emit authentic believability both in solos and in clean, pure harmonies.

Over the past year, Thunder & Lightnin' has made some notable additions to its show. Always a high-energy, fun-driven entertainment offering, the group has fortified its repertoire with a hefty dose of original music. "As any performer knows, enthusiastic receptions for songs that are not known to their listeners makes performing those originals pretty risky. Just like adding cover tunes, every song has got to resonate right away with our audiences in order to stay in the lineup. As it stands now, about one-third of our performance is comprised of our compositions."
Though based in the Verde Valley (except fiddler Mullinax, who resides in the Prescott area) appearances on this side of the mountain are becoming more frequent. The trio just received a boisterous reception at a packed Sharlot Museum Amphitheatre last week at the 39th annual Folk Festival and has had engagements at The Bird Cage and return shows at Thumb Butte Distillery.
"We love venues like Far From Folsom," Estes says, "especially outdoors at this glorious time of year and at Whiskey Row, the center of all things entertainment in Prescott. We'll be pulling out all the stops, for sure."
Website: www.thunderandlightnin.com
More like this story