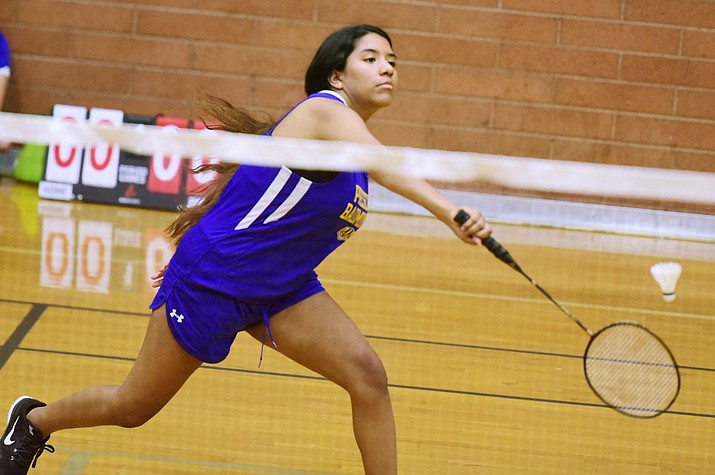 Originally Published: October 12, 2017 6:02 a.m.
Photo Gallery
PHS vs Raymond Kellis Badminton 101117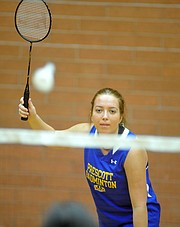 The Arizona Interscholastic Association (AIA) Division II Northwest section champion Prescott badminton team on Wednesday took the first of two steps toward potentially hosting a quarterfinals match in the state team tournament later this month.
At the Badgers' auxiliary gym, upstart Prescott defeated Raymond Kellis, 8-1, improving its record to 11-2. The Badgers now likely need only a victory over visiting Cactus in their regular-season finale at 4 p.m. today to earn a first-round bye.
"At the beginning of the season, it was hard to forecast the potential of this team," third-year Prescott coach Bobbi Yoder said. "I knew it was a little bit of rebuilding; we were still pretty young. I only had two seniors, one of which had never played badminton before. They've worked hard all season, and by no means has this been an easy record for them to accomplish."
Added Prescott No. 2 singles player Mackenzie Schultz, "We're a lot closer this year, and we've all just bonded so much. That's what's been helping us in getting better. We know how to work and play with each other."
If D-II No. 3-ranked Prescott garners one of the Top 4 seeds into the 12-team state tournament, the Badgers would host a quarterfinal Oct. 23. The state semis are scheduled for 6 p.m. Oct. 25, with the championship match slated to follow at 6 p.m. Oct. 26 at Sunnyslope High School in Phoenix.
The Badgers haven't played host to the team state tournament since they did so from 1999-2001, Yoder said. Prescott badminton's program, established in 1975, won its lone team state championship in 1985 under former longtime coach Rick Bothell.
"Bobbi has a really good role in all of this — she's an amazing coach," Prescott team No. 1 singles player Abby Nelson said. "She sees what we need to work on, and she turns our weaknesses into our greatest strengths."
Prescott has now won seven consecutive team matches since Sept. 14. The Badgers last lost a team match Sept. 12 in a 5-4 setback to D-II No. 1-ranked Ironwood in Glendale. D-II Peoria section member Kellis, meanwhile, dropped to 3-8 and is out of postseason contention.
This season, the Badgers' signature victory came Sept. 26 when they upset D-II state power and current No. 2-ranked Chaparral, 5-4, in Prescott.
"It was a really good win for us – we all really wanted it, especially Bobbi," said Nelson, a senior. "Receiving that victory was probably one of the greatest wins in our season."
Last fall, Prescott fell in the first round of the D-II state team tournament to Campo Verde. The Badgers appear poised to make a run in 2017, though.
"In practice, we're trying harder and we're using the drills as a guideline of what we have to do in the game," said Prescott team No. 3 singles player Zoey Frazier, a junior.
Prescott will also compete in the singles and doubles state tournaments Oct. 20 and 21 at Independence High School in Peoria.
Nelson finds out Oct. 18 if she has earned a seed into the state singles bracket. The first and second rounds, as well as the quarterfinals, will be played Oct. 20 at Independence. The semifinals, title match and consolation final will follow Oct. 21, also at Independence.
Nelson represents the lone Badger with state tournament experience, as she and former Prescott player Paige Campbell won a first-round match in state doubles last Oct. 21 before succumbing in the second round.
In the state doubles bracket, the junior Schultz and Frazier will play for the Badgers in the first round Oct. 20 at Independence. The second round and quarterfinals are also scheduled for Oct. 20, with the semis and championship slated for Oct. 21, all at Independence.
"We're best friends outside of school, and we've known each other since like sixth grade," Frazier said of her relationship with Schultz. "[As a team] we've improved from last year and from the year before. Everyone on the team gets along so well, and so that brings another part to it."
UP NEXT
Prescott hosts D-II No. 12-ranked and Peoria section member Cactus (8-3) at 4 p.m. today on Senior Day at the auxiliary gym to end the regular season.
Follow Doug Cook on Twitter @dougout_dc. Reach him at 928-445-3333 ext. 2039, or via email at dcook@prescottaz.com.
Prescott 8, Raymond Kellis 1
AIA Division II badminton match Wednesday at Prescott High School's Auxiliary Gym
SINGLES
No. 1: Abby Nelson (PHS) def. Alexis Salazar (RK) 11-4, 11-3
No. 2: Mackenzie Schultz (PHS) def. Jenn Tran (RK) 11-4, 11-4
No. 3: Zoey Frazier (PHS) def. Tatyana Flores (RK) 9-11, 11-0, 11-4
No. 4: Sara D'Alessandro (PHS) def. Sarah Phensombath (RK) 11-2, 11-0
No. 5: Carolyn Hulse (PHS) def. Keilah Rodriguez (RK) 11-3, 7-11, 11-3
No. 6: Erika Smith (PHS) def. Adamarie Mata (RK) 11-5, 11-3
DOUBLES
No. 1: Schultz/Frazier (PHS) def. Salazar/Flores (RK) 15-4, 15-6
No. 2: D'Alessandro/Hulse (PHS) def. Tran/Rodriguez (RK) 15-5, 15-3
No. 3: Phensombath/Mata (RK) def. Smith/Beadnell (PHS) 15-10, 1-15, 15-7