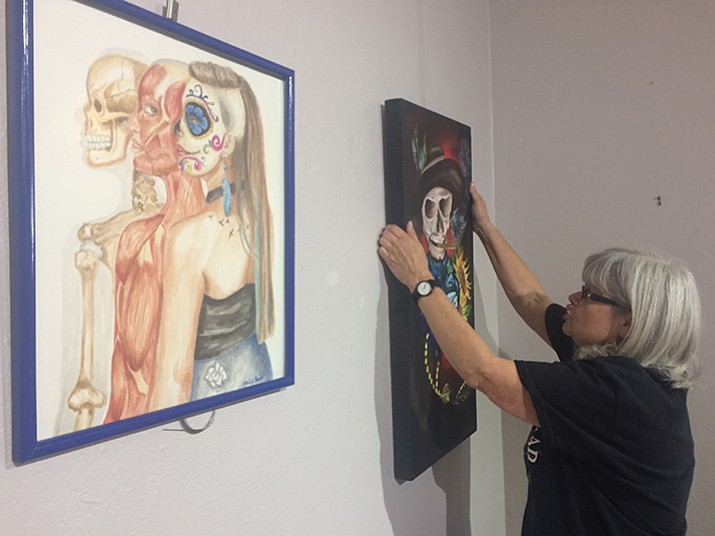 Originally Published: October 12, 2017 6 a.m.
Updated as of Monday, October 16, 2017 6:42 AM
For the past five years, the Prescott Center for the Arts gallery has been doing a Day of the Dead art exhibit, receiving artwork from Mexico but this is the first year that local art has been sent back.
"Last year, for the first time in Caborca, they had their first Day of the Dead exhibit in the Casa de Cultura. Seeing that, I realized we can send our stuff down there too," said PCA Art Gallery Curator Sukey Jones. "Now, they do have an exhibit space and where they're doing it for Day of the Dead, I thought 'we have their stuff here, this should be an exchange."
Normally, the gallery usually gets four or five pieces, this year there were 11 and 14 or 16 local pieces were sent to Caborca, Jones said. It's a collaboration between Prescott-Caborca Sister Cities, Caborca-Prescott Sister Cities and Prescott Center for the Arts, she said. Jones explained in a prior email that she is on the board of the Prescott-Caborca Sister City Committee.
The exhibit began Monday, Oct. 2, and will continue through Thursday, Nov. 2, with participation in the Fourth Friday Art Walk on Friday, Oct. 27, from 5 to 8 p.m. and a Sugar Skull Workshop on Saturday, Oct. 28, from noon to 4 p.m.
There is enjoyment in being able to present artists from Caborca and expose their work out of the country and share some culture, especially with Day of the Dead being so important in Mexican culture, said Mario León Felix, president of Caborca-Prescott Sister Cities. In Mexico, the celebration of Day of the Dead is very different from how other countries view it, Felix said. It's all about seeing the other side with a special look, he said.
"We try to be a little bit funny for the dark side and the other part is, I think, it's because we respect and we like to bring the memories back about our people," Felix said. "So this is part of our celebration."
This is opposed to the way death is viewed in many western cultures, Jones said. Instead of getting morbid, it's seen as a part of life and a part of the cycle of life, she said. In celebrating death, life is celebrated, Jones said.
The art gallery is open Monday from 11 a.m. to 3 p.m., Tuesday through Saturday from 10 a.m. to 3 p.m. and Sunday from noon to 4 p.m. Prescott Center for the Arts is located at 208 N. Marina St. and can be reached at 928-445-3286 and found online at www.pca-az.net.