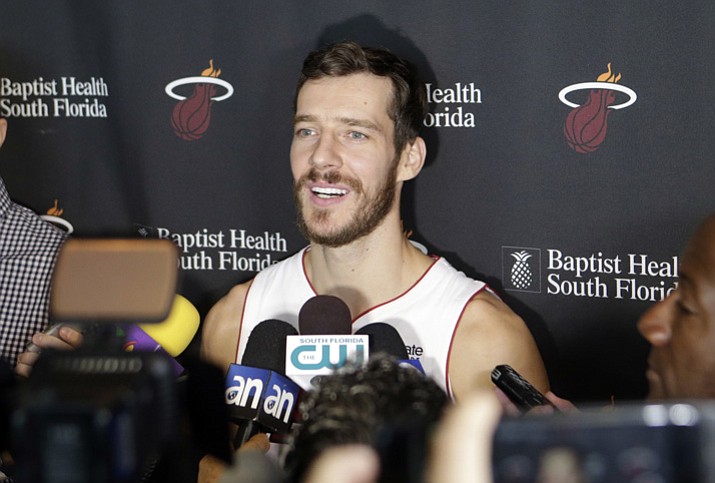 Originally Published: October 12, 2017 6 a.m.
MIAMI — Former Phoenix Suns guard Goran Dragic usually needs to play in preseason games to get ready for the season.
This year, the Miami point guard needed to not play.
It has been a preseason like none other for Dragic, who spent his summer carrying his native Slovenia to its first European championship and winning MVP honors at that tournament. But it also meant Dragic came back to Miami late last month worn down by the physically and mentally spent from the grind of that tournament, so Heat coach Erik Spoelstra decided to basically not use his starter for most of the preseason.
Dragic didn't like the idea at first. He knows now that it was the right move.
"I feel like my head is clearing," Dragic said Wednesday before sitting out Miami's home preseason game against the Washington Wizards. "I'm OK. Physically, I feel great. Mentally, I'm hungry again for basketball. That's what we want to achieve and that's the feeling we want for that first game."
Dragic hasn't officially been ruled out for Miami's preseason finale in Kansas City on Friday against Philadelphia, but he isn't likely to play.
"The big key is I want him feeling fresh, peaking by Game 1," Spoelstra said. "He's in great shape, great spirits and we'll just keep moving forward."
Dragic, Miami's leading scorer last season at just over 20 points per game, expects to be full-go when Miami's regular season starts Wednesday in Orlando. He said Spoelstra recognized how much the European title run — the emotional toll if nothing else — took out of him.
"I always want to practice and play," Dragic said. "But sometimes your body or your head doesn't allow you to do that. He's good at reading players. He knows what you need. Maybe he saw something that probably was not hard to see. So I crashed a little bit, came back and now it's on to a new goal here in Miami."
Jackson scores 22 in losing effort vs. Portland
PHOENIX — Portland's Caleb Swanigan and Phoenix's Alex Len were ejected after scuffling under the basket with 9:33 remaining. They got tangled while getting in rebound position, and Len then gave Swanigan a shove in the back before they were separated.
Meyers Leonard made his first five 3-point tries and finished with 17 points for Portland. Josh Jackson had 22 and Mike James added 19 for Phoenix.
TRAIL BLAZERS
Starting guards CJ McCollum and Damian Lillard combined for 23 points on 9 for 28 shooting. ... Ed Davis grabbed 12 rebounds in 17 minutes.
SUNS
Marquese Chriss had 13 points and 12 rebounds. ... Eric Bledsoe missed all eight of his shots. ... Phoenix had 40 points in the second and third quarters combined, then scored 43 in the fourth.
UP NEXT
Portland (4-1) hosts Maccabi Haifa on Friday. Phoenix (1-3) hosts the Brisbane Bullets on Friday.