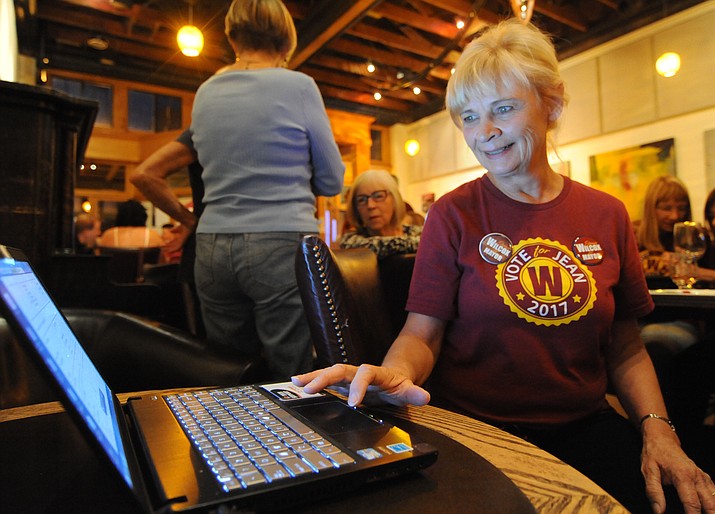 Originally Published: October 9, 2017 6:04 a.m.
Out of high school, Jean Wilcox said she received a full scholarship to Tufts University in Boston, which has consistently been ranked among the top schools in the nation.
She didn't like it.
"I did not like the Eastern elitism," Wilcox said on Friday. "Most of the kids at the school were from prep schools, wealthy families. I didn't fit in there at all."
Wilcox is one of two candidates to be the next mayor of Prescott in the Nov. 7 general election. Early voting begins Wednesday. If elected, she will be the city's second female to hold that position. A portrait of the first woman to hold that job, Geraldine "Jerri" Wagner, hangs in her office at City Hall.
Wilcox said she wanted to pursue geology for her undergraduate degree, but found roadblocks.
"The professor did not like girls in the class," Wilcox said of her experience at Tufts. "He always took a trip to the Grand Canyon … he made an announcement that, 'Anyone wants to go on this trip, come and talk to me.' I went and talked to him, because I wanted to go on the trip. He went on and on about how girls have such a difficult time, and the trails are steep and narrow, and there's no place to go to the bathroom."
A friend was attending Stanford and recommended Wilcox look at transferring to the University of California Berkeley. Attitudes there, despite its liberal reputation, were not much better.
"When I got to Berkeley, I went to see the undergraduate adviser, because I wanted to major in geology … he was chairman of the department, and he said, 'You know, we've only had one girl with a major in geology in this history of the school.' He talked me out of it, so I went down one floor to the geography department."
Wilcox said in retrospect she should have pushed harder for the degree she wanted, but that she was still young and there were consequences for making waves at that time in history.
Wilcox grew up in a military family, often moving around the country and around the world. As a young child she lived in Japan and France. She has lived in nine different states, including in Arizona for the past 25 years. She moved to Prescott in 2012 and immediately got involved in her new community, through nonprofits and her church.
She said growing up in a military family and moving so much as a child taught her how to make friends quickly and the value of becoming involved in the community you live in.
She obtained her undergraduate degree at the University of Colorado and her graduate and law degrees at the University of Montana, where she had moved after marrying.
"I got interested in land-use law, constitutional property rights when I was a graduate student," she said. "The impact of human beings on the land was always an interest of mine."
It didn't take Wilcox long to become involved in Prescott politics when she arrived. She was asked to be the interim city attorney and accepted that position. She said she decided to run for a seat on the city council when that body decided to quit buying open spaces.
Her love of nature is often the driving force in her public service.
"I think it just comes from my love of the land, and wanting it to be taken care of and not destroyed by human activity," Wilcox said. "I love nature, I love hiking, clean air, dark skies and sparkling nights."
Related Stories
More like this story