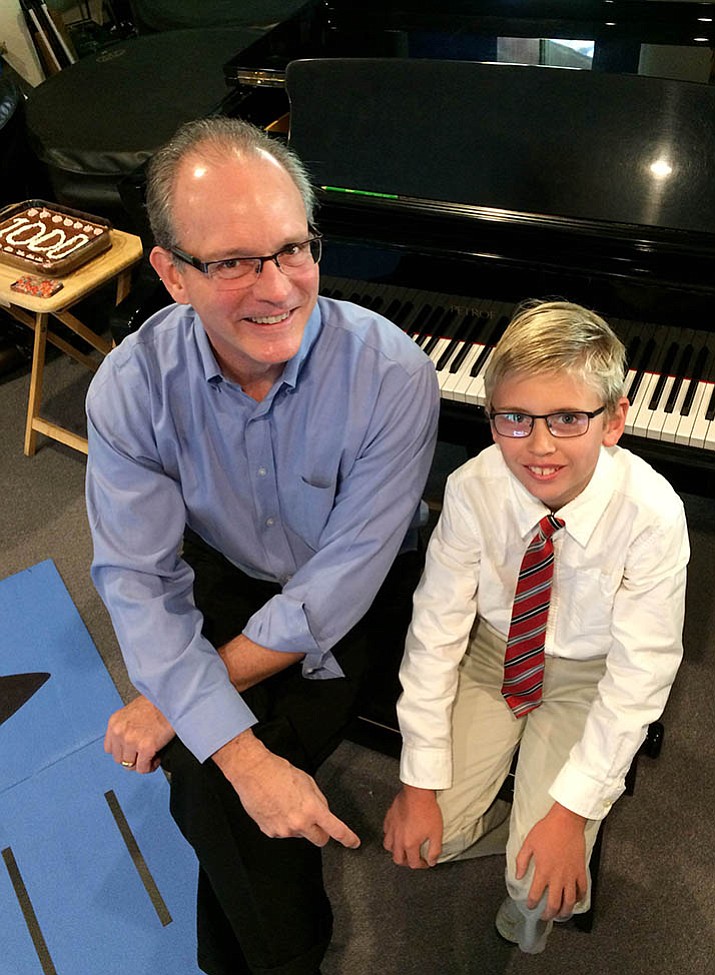 Photo by Sue Tone.
Originally Published: October 8, 2017 6:06 a.m.
When Matthew deGoey, 10, knew his family was going on vacation and he couldn't, of course, bring along a piano, he planned in advance to practice double sessions to make up for the missed days so he could still reach his goal — 1,000 days of practicing.
The rule for the 100-Day Practice Challenge music teacher and composer Henry Flurry initially set before his students was simple: practice every day for 100 days in a row.
But when a student arrived in tears having missed a day due to illness, Flurry revised his rules to include, "If you miss a day, you can make it up by doing two complete practices as assigned within the same day, each practice at least an hour apart."
DeGoey, who completed his goal on Saturday, Sept. 30, is the second of Flurry's students to hit 1,000 days of practice — 10 times more than the 100-Day Practice Challenge. Cameron MacKenzie was the first student.
"Cameron has long since moved on to different teachers and cities, yet I've watched his fluency continue to grow and his musical accomplishments cumulate," Flurry said. "I'm confident that his practice 'only-on-the-days-you-eat' mentality persists to this day."
When Saturday arrived, Matthew actually had 1,001 days of practice under his belt, "to be sure nothing would happen," he said. At the group practice session that morning, Flurry surprised him with a cake with a large "1,000" across the top.
He and his three younger siblings all take music lessons — Matthew also takes violin — Jonathan, 9 this month, plays piano and started Suzuki cello, and the twins, Liam and Ethan, 6, are taking piano and cello, respectively.
"No, I have no musical background which is why Matthew is taking piano," said his mother, Marguerite Kirk. "I really miss that. I am so envious of that ability — to tap out a melody."
Not every practice is smooth. It can be frustrating for Matthew, his mother said. Matthew, however, said while some of the pieces are difficult to learn, "I wouldn't call it hard to practice."
How does one schedule practice time for four children on three different instruments? Keep it consistent, Kirk advises.
Matthew practices violin in a back bedroom and then piano in the morning, Jonathan on piano in the afternoon, followed by Liam. Ethan and Jonathan practice cello together in the morning.

The 100-Day Challenge tends to create a stronger practice routine and diminish conflict at home, Flurry said, adding that he sees an increase in growth, motivation and enthusiasm. "Students are more confident in their performance, and they arrive at lessons even more eager to demonstrate their week's accomplishments."
Achieving 1,000 days means Matthew has practiced daily almost one-quarter of his life, 2.7 years.
His motivation: to see how long he could practice.
His new goal: 2,000 days.
His advice: completely believe in yourself, keep working at it, and never give up.
Follow Sue Tone on Twitter @ToneNotes. Reach her at stone@prescottaz.com or 928-445-3333, ext. 2043.