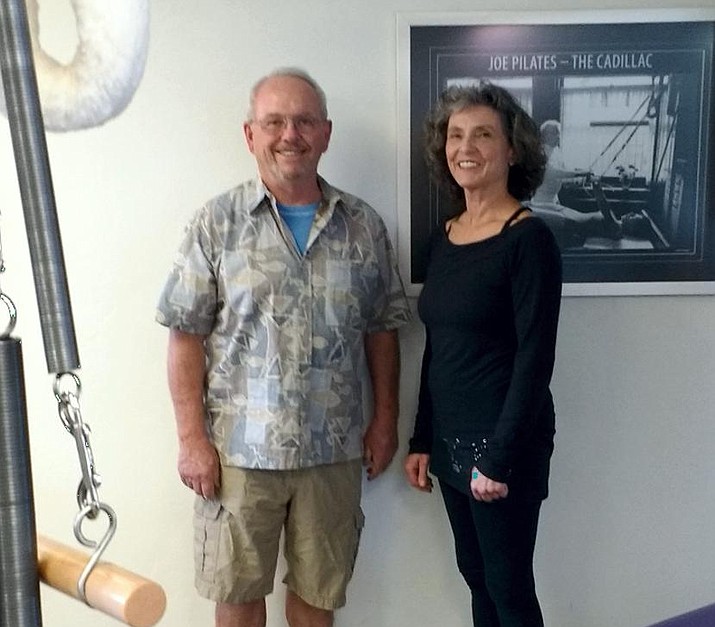 Originally Published: October 8, 2017 6 a.m.
Lucille Noggle, CPCC operates a successful Pilates studio in Prescott. She accomplished this by combining her committed dedication to her chosen field, her business acumen and the advice and support she received from Northern Arizona SCORE mentor Dan Byer.
She had been working on a Dance degree at San Francisco State and began having problems with one foot. This led her to St. Francis Hospital's Dance Medicine Clinic, which happened to be a Pilates clinic. Her experience directed her to a lifelong commitment and passion for Pilates. She pursued her training with, and was certified by Joseph Pilates protégé, Romana Kryzanowska.
Now, as a Pilates instructor since 1998 and having run a successful Pilates and Life Coaching business in Scottsdale, Lucille felt confident that she could once again build a successful business in Prescott. However, the studio she needed had to meet a number of requirements, one of them being high enough ceilings to accommodate some of the equipment. These issues were making it difficult to find an appropriate location. That was when she approached SCORE and was teamed with Dan Byer.
Dan reviewed locations with Lucille and went over the pros and cons of each, eventually settling on the Miller Valley location. Here the landlord was able to provide the necessary ceiling height that some of the equipment required, plus it had the added advantages of a reasonable rent, high visibility and a commercial location directly across from True Value. They also discussed appropriate business insurance.
Lucille took a personal loan to finance the purchase of her equipment. Dan helped with the initial marketing and Lucille had her website active even before she found her location. Having worked in this area for quite some time, she had established a loyal clientele, but she began to attend Chamber of Commerce mixers and participate in other networking and marketing opportunities. Finally opening in August 2016, Lucille has seen her business grow and she has now taken on another instructor, Susan Carroll, to accommodate her clients.
What is Pilates?
Pilates is an active resistance system of core strength building that was developed by Joseph Pilates. Professional dancers, wrestlers, boxers and NYC elite flocked to his studio in New York City.
Eventually Pilates expanded and tailored his exercises to adjust to individual needs that would allow everyone, regardless of their physicality, to stay active and fit for their lifetime.
One of the Pilates equipment is called a Wunda Chair (NYC vernacular for wonder chair). This is adjustable so that it can assist to strengthen abdominals and then, as the body increases stamina, the resistance can be increased in proportion to the individual's ability to continue building that core strength.
"I felt there was room in town for a fully equipped classical Pilates studio. And, the response to my business," said Lucille, "has been really great."
As her business has grown, and Lucille now has another instructor, individual and group sessions are offered, and she even offers a Chair Pilates class for seniors. She provides mat classes, which are simple floor exercises and both private and semi-private classes for the equipment. In fact, Joe Pilates philosophy was, "You are as young as your spine is flexible."
Since opening Studio Sol Pilates, Lucille has received referrals from physicians, physical therapists and other professionals for patients that have chronic physical issues and she has had very successful results working with these clients. She sees many clients with a variety of back issues and has been able to resolve many of these issues so that clients can again lead full, productive lives.
Lucille can be reached at Studio Sol Pilates, 843 Miller Valley Road, Suite 102, Prescott, 928-308-4638 or visit www.StudioSolPilates.com.
If you need help starting or growing your business or to register for the Understanding Small Business Financials Workshop, Tuesday, Oct. 10, from 5 to 7 p.m. at Yavapai College Prescott campus call 928-778-7438, email: scoreoffice@scorenaz.org or go to www.northernarizona.score.org.
More like this story