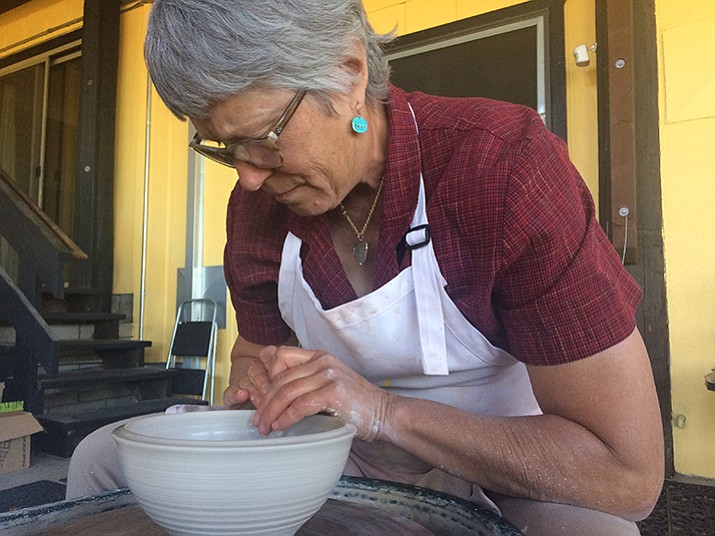 Photo by Jason Wheeler.
Originally Published: October 8, 2017 6:02 a.m.
In the stillness of Friday afternoon, it was the perfect time for Abby Brill to spread her work out behind her home while throwing some new pieces and talking to whoever came by.
Only a few hours after the 10th annual Prescott Area Artists' Studio Tour started, Brill said she had seen about 25 or 30 people, but knew there'd be more as the tour continued throughout the weekend. Usually, a total of a couple hundred people stop by, she said.
Fine artist and printmaker Donna Carver, whose studio is underneath Mountain Artist Guild, 228 N. Alarcon St., said she had about 100 people visit her by Friday afternoon and expected more to come throughout the weekend. Friday and Sunday mornings usually have a flow of people while Saturday and Sunday afternoons are busy, she said.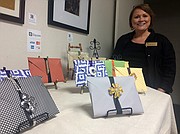 Carver said she always enjoys when someone walks by, sees her art and gets excited by the color, texture or subject of it and wants to talk about it. Yet, when the average person thinks about fine art printmaking, they think of Xerox copies, she said.
"People have been really interested in my collagraph process and they don't really understand it, they're drawn to it because of the depth and the embossing," Carver said. "This gives me time to do education to help them understand that each one of these is an original work of art."
Above Carver's studio, showing in the Mountain Artist Guild was Bonnie Casey who said she sold three paintings by Friday afternoon.
She was enjoying herself, Casey added.
Casey mentioned that last year, she was painting during the tour when someone brought her two grandchildren. She offered to let them try some painting and a year later, they planned to come back Saturday, she said.
Casey said she thinks it's exciting to encourage and inspire others with her artwork.
"I had that done for me. I went to the Art Institute of Chicago when I was 10," she said. "If you can encourage them, who knows where that can be or where it can go."

Brill said she loves when she can spread out all of her works outside and have people come and visit her while she works. Her studio is quite small, she said.
Her studio is located at 426 S. Alarcon St.
"I never get to talk to people while I'm working. It's just really fun. The whole weekend is a huge adrenaline rush," Brill said. "I get friends to come hang out and wrap pots and take money. I just get to throw pots and talk to people. It's really fun."
The 10th annual Prescott Area Artists' Studio Tour continues Sunday, Oct. 8, from 10 a.m. to 4 p.m. It's free and self-guided.
For more information about the tour, as well as featured artists and art centers, visit www.prescottstudiotour.com.
Follow Jason Wheeler on Twitter @prescottwheels. Reach him at 928-445-3333, ext. 2037.