Originally Published: October 6, 2017 6:05 a.m.
The Friday Catchall, with a twist; today's column is dedicated to a dear friend.
• SUCCESS — Often we do stories here at the Courier about people whom most would say are successful.
They seemingly have the world by the tail — having retired comfortably after a wonderful career, are growing their portfolio or estate through good investments or projects, or they are excelling in a career in which they are making wise decisions and truly are affecting change in our community.
This can be seen in many different forms; however, so many people rarely think of the former alcoholic or drug user — if there is such a label — as a success.
Theirs is a life of ongoing recovery. Ask any "former" drinker or user, they will tell you they live day to day and truly "work" to stay away from addictive substances. They are not society's picture of success.
Yet, a local man crossed my path years ago who made me see things differently.
At one time he was an accomplished businessman and had also served our country in the Air Force; but, alcohol and drugs had taken a hold on him. As a result of their scourge and some resulting medical challenges, the man I met was dependent on a wheelchair to get around.
He did not let that stop him though.
This Godly man towered over me — his drive and ideas were so giving, and he thought about others always before himself.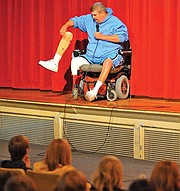 He especially strived to teach children how (and why) to stay away from alcohol and drugs. Some called his tactics brash, even shocking: he would be on stage talking to the youth, and would get their attention by removing his prosthetic leg and throwing it onto the stage.
"This is what addiction will get you. This is why you must stay away from these horrible things," I heard him exclaim once, referring to alcohol and drugs, during one of those speeches to a roomful of youth.
Sometimes that's what it takes to get kids to take notice.
Still, there was no end to his compassion and love for his fellow man. We first met when he wanted to give money and some plaques to women in the community who were succeeding and making a difference. He funded and did it himself.
I met him the day of those awards and we hit it off, staying in touch and having lunch several times each year since. We could go months (once, nearly two years because of his hospital stays) without seeing each other; and, when we would meet we would pick up where we left off — talking about positive mental attitude, local events, politics, and mostly family and our lives.
He was a very good friend, the kind you mourn the loss of.
And tomorrow, Oct. 7, is his funeral.
Robert "Bob" Farster, 62, died last weekend from injuries he suffered in a Sept. 28 crash with a pickup truck. No one deserves to go that way, and my heart breaks for my friend.
At the same time, Bob will always be one of the most successful men I have ever known. What measure of success do we use in this life?
This man who was oh, so humble and would give you the shirt off his back, is gone from this earthly life. But what I have learned from him will stay with me forever.
In society there are givers, and there are takers. Bob was a giver — times 10 — and his legacy is that we must be greater people in the wake of our struggles, and know that things can and will always get better.
Bob, my friend, you sir were a success! I miss you already.
• QUOTE — "Success is not final; failure is not fatal: It is the courage to continue that counts." – Winston S. Churchill
Follow Tim Wiederaenders on Twitter @TWieds_editor. Reach him at 928-445-3333 ext. 2032, or twieds@prescottaz.com.
More like this story