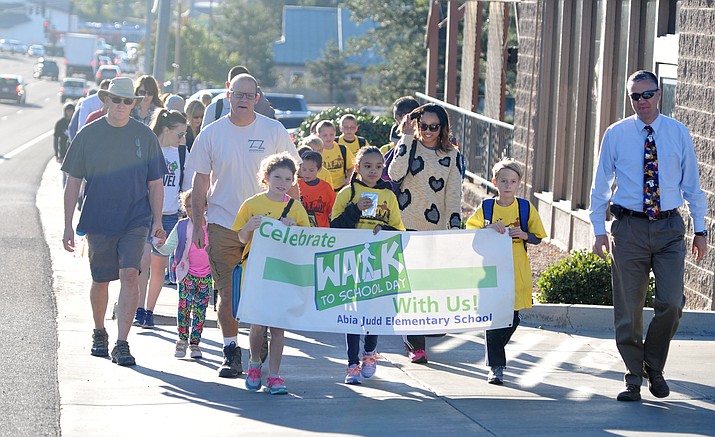 Originally Published: October 5, 2017 6:04 a.m.
Three Abia Judd Elementary third-grade friends walked hand-in-hand together — two of the three's dads not too far behind — from the Goodwill parking lot on Iron Springs Road to the school's front door.
The trio — Abby Hopple, Atison Hart, and Kaylee Federwisch — kept their hands clasped for much of the 15-minute, police-escorted sojourn, chatting merrily away even as they made sure they stayed on the northbound sidewalks.
At an intersection before Williamson Valley Road, the girls and their fathers crossed with about 100 other students and parents as rush-hour traffic politely waited for every last one to get safely to the other side.
On a picture-perfect autumn morning, Abia Judd students participated in "Walk to School Day," an annual project coordinated through the Prescott Alternative Transportation group which promotes safe walking and biking to local schools that is part of a national Safe Routes to Schools effort.
Just before kick-off at 7:45 a.m., the nonprofit organization's Safe Route to Schools coordinator, Josette Kubin, handed out bright yellow T-shirts that included an etching of an elementary school with the slogan beneath it that reads, "I Ride, I Walk, I Pedal." The children were also treated to juice boxes and granola bars.
Kubin didn't stop there.
After a warm greeting to the children, and the many accompanying parents and grandparents, Kubin talked about the route the children would walk with the emphasis on safety. No child was to step off the sidewalks.
At the intersection, the children were to wait for the pedestrian "walk" signal and then proceed quickly, but safely, across the multi-lane roadway to the next sidewalk.
She informed the children that even when they see the walk signal they need to look both ways to be certain no cars are coming toward them.
She also implored them to always pay attention to their surroundings when they walk or bike anywhere; she was clear that cell phones and iPods should be left in their backpacks.
"Are all you Jaguars ready to walk to school today?" Kubin asked to a cheer of "YEAH!!"
With Halloween on the horizon, Kubin noted even children who do not regularly walk, or bike, to school because it may not be practical to do so need to know the standard precautions.
At some time, children are going to walk to a neighbor's house, or go trick-or-treating with friends, and need to know the basic tips to ensure they are safe from home to their destinations and back.
She offered three, quick reminders: "Be safe and be seen," including flashlights if walking outside at night; "Be smart and alert;" and "Be careful at crossings," noting that no one should assume cars will stop for you. She advised all pedestrians look the driver at the crosswalk in the eye.
"I thought this was a great idea," said Abby's father, Doug Hopple. "They're out walking, and they're learning some safety tips."
Fourth-grader Jacob Arancibia, and his mother, Julie, were part of the pack, both suggesting this was a good way to get some healthy exercise, spend time with friends and learn the "rules of the road."
Principal Clark Tenney, who led the walkers along with a group of three students carrying a "Walk to School Day" banner, said he appreciates the community-building and safety aspects of this event.
Unlike the Prescott Unified School District's other two elementary schools located in neighborhoods, Abia Judd is located on the corner of two major intersections and only three of its 528 students walk to school, he said.
So this event is a chance for children to harken back to days when cars weren't a given.
Parent Mattie Smith, who walked with her two eldest children, Cougan, second-grade, and Brynlee, first-grade, said this was the first time they participated, and she liked the chance to rally together with other families for such a fun and informative outing.
"Everything is so high speed these days. It's just nice to slow down and enjoy a beautiful morning," Smith concluded.
Related Stories