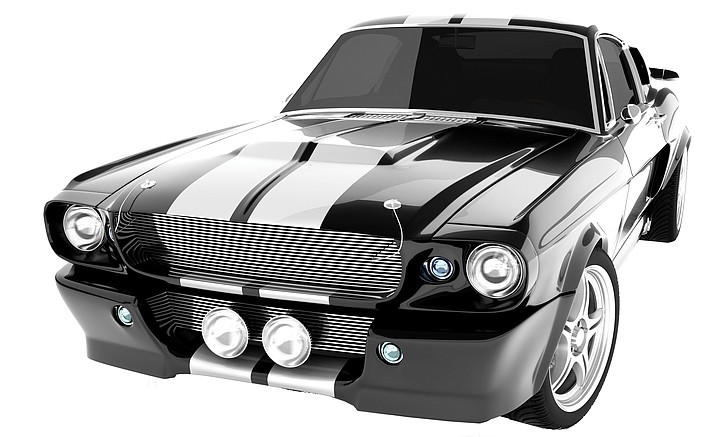 Originally Published: October 5, 2017 8:03 p.m.
It's strictly ponies only this weekend in front of the Walmart on Highway 69.
Organizer Don Stewart expects it to be a full show.

"We've got a larger number of preregistrations than we've had in any years past," Stewart said. "That means about 130 cars is our maximum."
Even with that large number of cars coming for the Pony Only Cruise, it won't seem that packed because a lot of the cars coming up from Phoenix come early and leave around noon, making room for the folks who come in late, he said. It works out just fine because they can always find a stall, Stewart said.
A show of nothing but Mustangs, it's a car show called a cruise because the two terms are used interchangeably in the Prescott area, he said. Even so, he and his wife Debbie like to say everyone cruises in, parks and drools over the cars and then cruises on home at the end of the day. They don't really want to call it a car show because there's no judging, he said.
About 60 percent of the cars present will be those belonging to local people, Stewart said. It surprised him the first time the cruise was put on, figuring that number would be 80 percent, he said
"Once a car club is interested in Phoenix that comes up, everybody comes up," Stewart said. "I get registrations 10 and 20 at a time."
Free to the public and free to register, the cruise runs from 10 a.m. to 3 p.m. on Saturday, Oct. 7. There's a raffle too and all the proceeds from that raffle will go to the Yavapai County Jeep Posse, Stewart said. How much that's able to go to the Posse depends on the year and the economy, but Stewart said it'll easily hit about $2,000 this year. Items to be raffled include tool kits, jack stands, hydraulic jack sets, restaurant gift certificates, passes to Bearizona Wildlife Park and the Phoenix Zoo and memberships to Heritage Park Zoological Sanctuary, said Debbie.
The cruise presents a good opportunity to give gearheads and other car restorers a chance to talk about their cars and network to discuss problems and solutions, Don said. It's open to all mustangs of any year and condition, said Debbie.
"Sometimes people say they don't want to bring their car because it's not show condition or they didn't wash it or whatever. We don't care," she said. "We just want anybody who has a Mustang that enjoys talking to others about Mustangs to bring their cars."
Galpin Ford is also going to bring a demonstrator car to give people a chance to test drive a Mustang, Debbie said. There's a chance it'll be the new 2018 model too, Don said.
For more information about the Pony Only Cruise, visit www.ponyonlycruise.com.