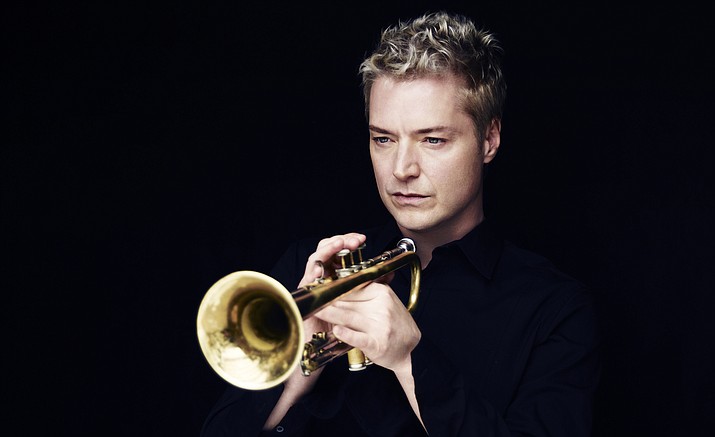 Originally Published: October 5, 2017 5:43 p.m.
It's going to be a musical week for Yavapai College as jazz bands swing on Monday and Chris Botti trumpets around on Thursday.
Employing both the Roughrider and Trailblazers jazz groups, the jazz performance got its name from a popular jazz standard known as "Stompin' at the Savoy," said Director Chris Tenney.
"We kind of borrowed the name a little bit there and we made it Swinging on Sheldon Street. So, right here, Sheldon Street is where the college is located, so we decided that we were going to swing up and down the street with a good list of great jazz tunes for audiences to enjoy," Tenney said. "If you're at all interested in jazz, then you're going to find something you like at this concert. My main goal is to explore every corner of the jazz idea."
Starting at 7 p.m. on Monday, Oct. 9, "Swinging on Sheldon Street" will include such pieces as Thelonious Monk's "I Mean You," Jeff Jarvis' "Slingshot," Lerner & Lowe's "Almost Like Being in Love," Gordon Goodwin's "Rippin' n Runnin'" and Count Basie's "Basie Straight Ahead."
Tickets are $10 and available online at www.ycpac.ticketforce.com.
Tenney said he has some phenomenal musicians that he tries to push just a little bit further for every concert. With the Trailblazers group, almost all of the music they'll be performing are the professional editions of those pieces, he said.
"It's exactly the same way it was recorded by Count Basie or by whoever it was that did it," Tenney said, noting that though finding community players to play at that high of a level is always a challenge, "these guys have been rising to this challenge over and over again and it seems like no matter how hard I push them, they've got more to give."
However, "Swinging on Sheldon" isn't the only performance happening at Yavapai College next week as Chris Botti returns to Prescott on Thursday, Oct. 12. The last time he was here was about three years ago and this concert is going to be on his birthday, Botti said, remarking playing a gig is a lot more fun than having a party. It starts at 7:30 p.m.
A trumpet player, Botti became the largest-selling American instrumental artist after the release of his 2004 album "When I Fall in Love," according to a news release from Yavapai College Marketing & Communications Specialist Michael Grady, which also mentions that over the past 30 years, he has recorded and performed with numerous highly acclaimed artists such as Barbra Streisand, Yo-Yo Ma, Paul Simon, Joshua Bell, Steven Tyler and Frank Sinatra.
"My closest and longest relationship has been with Sting," Botti said, stating that the two have so much history, they've become "like family … he's been by far my most positive experience."
Tickets for this performance range from $38 to $68 and are available online at www.ycpac.ticketforce.com with a $3 service fee. Ticket prices increase by $5 on the day of the show.
Both performances are at Yavapai College Performing Arts Center, 1100 E. Sheldon St.