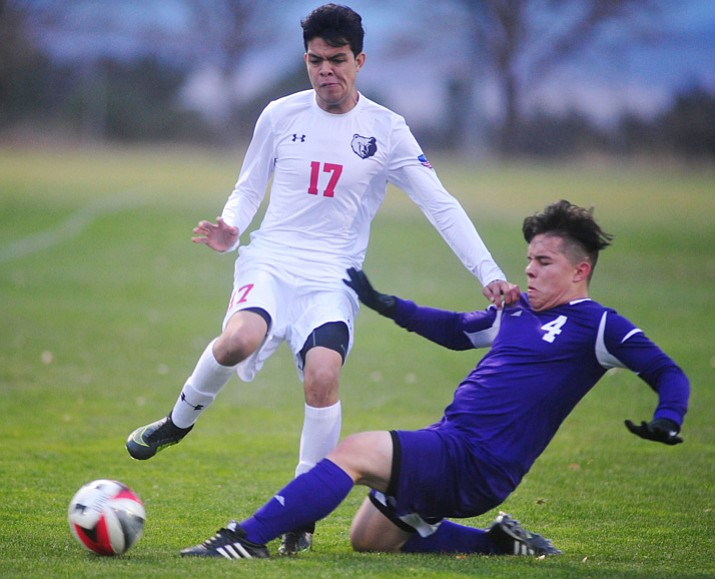 Originally Published: November 30, 2017 11:30 p.m.
Photo Gallery
BMHS vs Cesar Chavez Soccer 113017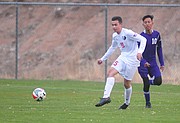 Nine starters graduated from its 4A state-qualifying squad this past off-season, leaving the Bradshaw Mountain boys' soccer team wondering how well it might fare in 2017-18. Well, if nothing else, the Bears should feel fine about their start to the campaign.
Forward Brandon Fischer registered a hat trick, scoring three goals in the first half, to lead Bradshaw Mountain to a 5-0 victory over 6A Cesar Chavez in the Bears' 2017-18 season opener Thursday at Pioneer Park in Prescott.
"A number of these guys played parts of games last year – a couple of them were pulled up [from JV] later in the season," first-year Bears coach Bruce Giles said of his current group. "So, some of them have some varsity experience. But in terms of them all playing together? This is our second game. We played a scrimmage against Mingus; we looked great, but weren't given a lot of pressure."
On the first day of the 13th annual Alliance Soccer Tournament, Bradshaw Mountain moved to 1-0 in Pool B. The Bears will conclude pool play at 5 p.m. today when they tackle Gila Ridge of Yuma on the park's Field 2.
"What I'm looking for tomorrow [Friday] is seeing how we deal with pressure," Giles said.
Fischer, a senior captain, scored in the 14th, 22nd and 23rd minutes, firing in goals on a goalkeeper mishandle, a header on a cross from Caleb Bryant, and a pretty crossing shot from left to right via a long pass from Ivan Valera.
"Part of getting behind their [Cesar Chavez's] defense has a lot to do with communication, and with my team," said Fischer, who shined as a place kicker for the Bears' football team this fall. "I can't do it all on my own. It takes a lot of teamwork and a lot of practice. We've been practicing plays like that all practice and all preseason. So, it's pretty normal for us to be doing that."
Bears shallow striker Jovanny de los Santos credited Fischer for bringing the team together.
"He's the one that gets us focused, [gets our] confidence up, and that's the main reason why he's the captain," de los Santos added. "We work as a team and we feed him, and he scores."
Up 3-0 at halftime, Bradshaw Mountain's Tryston Cohan put the match out of reach for Cesar Chavez in the 46th minute when he knocked a shot in from short range in the box via a corner kick from Dillon Harwood.
"We've been working a lot on movement, on getting the ball wide in diagonal runs, and working it down using the width [of the field] to our advantage," Giles said. "And they're doing that. They're fun to coach."
De los Santos polished off the scoring on a penalty kick, which he lined into the top shelf in the 76th minute for the 5-0 lead that stood. He said that he and his teammates have grown up together and possess solid chemistry.
"We've always communicated," de los Santos said. "We're going to be playing tougher teams than this, and communication is key. If we don't have that, we don't have a good enough team, and they'll just break through us."
Bradshaw Mountain goalkeeper Christian Lugo came up big in the second half, preserving the shutout with a few well-played saves.
"Defense wins championships, and that's what we're trying to do," Fischer said.
Seventeenth-year Chavez coach German Alvarez, whose team was shut out by San Luis, 9-0, in its season opener Wednesday, said his Champions played Bradshaw Mountain without five defensive starters, including his starting goalkeeper. Those players were academically ineligible and didn't make the trip from Phoenix.
"All of the players have to push the people who are on the 'no pass, no play' list and help each other to be part of the team," added Alvarez, whose squad played with six subs. "When we have the whole team, we do good things."
UP NEXT
Bradshaw Mountain will face Gila Ridge at 5 p.m. today on Pioneer Park's Field 2. If the Bears win, they will play in the semifinals at noon Saturday. Semifinal winners qualify for the tournament championship match at 5 p.m. Saturday.
Last season, Bradshaw Mountain lost to Gila Ridge in the first round of the 4A state tournament.
"It's going to be a harder game [than Thursday's], and it might put us to our limits, too, but it should be a good test to see how we can do," Bear Isaac Arroyo said.
Chavez will take today off and return to the Pioneer Park Field 2 at 8 a.m. Saturday to take on Gila Ridge.
Doug Cook is a sports reporter for The Daily Courier. Follow him on Twitter at @dougout_dc. Email dcook@prescottaz.com or call 928-445-3333, ext. 2039.