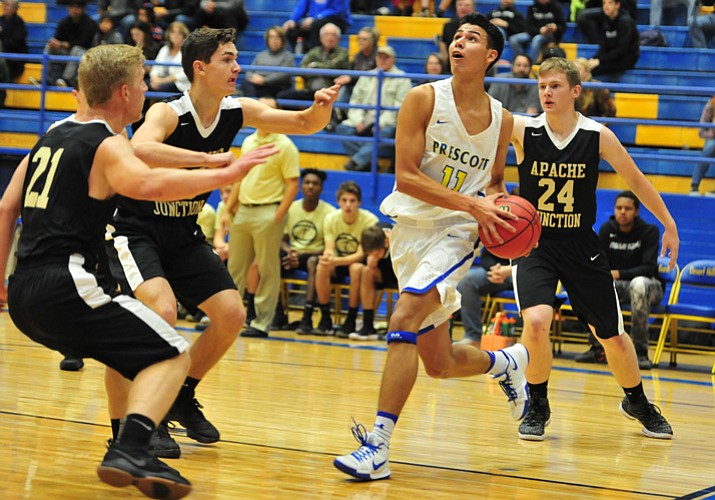 Originally Published: November 29, 2017 11:50 p.m.
Photo Gallery
Prescott vs Apache Junction Basketball 112917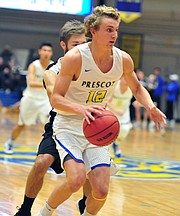 Braden Lopez may not lead the Prescott boys' basketball team in scoring this season, but his bucket with 0.6 seconds left to give the Badgers a 53-51 win at the buzzer over Apache Junction on Wednesday night is a moment he won't soon forget.
The senior forward needed every inch of his 6-foot-6 frame to tip in a last-second miss by Dallin Jex from beyond the arc.
"It was crazy. … I saw it go up and I just thought, 'Crash the glass,'" Lopez recalled in the locker room after the win. "With seconds left, we still had another shot opportunity, so when I saw the ball go off [the rim], I thought I could easily tip it in."
It is the third straight opening-night victory for the Badgers (1-0, 0-0 Grand Canyon), which sprinted out of the gates to an 11-0 lead and never trailed in the contest.
Apache Junction (0-6, 0-0 Black Canyon) crawled back into the game early on, using a 17-8 run over the last 3:27 of the first quarter thanks to a pair of 3-pointers by Evan Quiroz to cut Prescott's lead to two, 19-17.
In the second half, Lopez hit a 3-pointer midway through the third quarter to extend the Badgers' lead, 39-28, but the Prospectors were determined to ruin Prescott's night.
After two lengthy possessions late in the fourth, Apache Junction's Brigham Milkey finally came through, knocking down a 3-pointer with 45 seconds left to tie the game at 51-51, setting up Lopez heroics for the Badgers in their final possession.
"Always good to get off to a good start, maybe we can use this momentum heading into the Sedona tournament," sophomore forward Korey Schwartz said.
UP NEXT
Prescott heads to the Red Rock Hoops Classic this weekend in Sedona for its first tournament of the year. The Badgers are scheduled for three games Friday, Dec. 1, the first against Coconino at 10:20 a.m.
Prescott will also get a look at 3A power Winslow and Sedona on Friday as well. The two-day event goes through Saturday with bracket play.
Brian M. Bergner Jr. is sports editor for The Daily Courier, the Prescott Valley Tribune and the Chino Valley Review. Follow him on Twitter at @SportsWriter52 or on Facebook at @SportsAboveTheFold. Email bbergner@prescottaz.com or call 928-445-3333, ext. 1106.