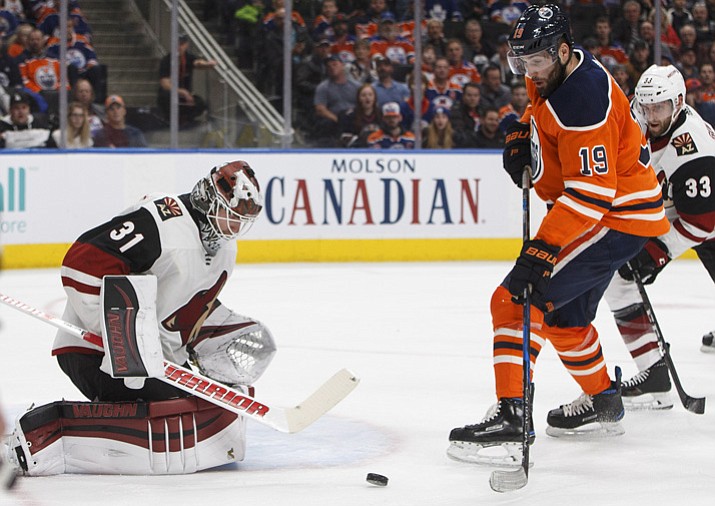 Originally Published: November 28, 2017 10:40 p.m.
EDMONTON, Alberta — Not a lot has gone right for the Edmonton Oilers this season, but they caught a couple of breaks on Tuesday night.
Ryan Nugent-Hopkins scored 4:20 into overtime as the Oilers defeated the Arizona Coyotes 3-2 for their second win in a row. The Coyotes had the best chances in overtime, ringing two shots off the crossbar, but a late turnover led to Nugent-Hopkins getting a breakaway and scoring his ninth goal of the season. "I had to come up with a couple of big saves there and got lucky a couple of times off the post, but those are the bounces that haven't been going our way so it's nice to get a couple of those," said Oilers goalie Cam Talbot, who made 29 saves, four in overtime. "I think we definitely have to build off it, but we can't get too complacent.
"After we string a win or two together we seem to come out in the next game a little flat. We have to build off this and come out strong next game and build off that momentum moving forward."
Zack Kassian and Matt Benning also scored for the Oilers, who have only won two straight games on one other occasion all season.
"It's nice for our confidence right now," Nugent-Hopkins said. "In each of our last two games we came back from being down a goal. We are showing a lot more fight, a lot more resilience right now. It should go a long way for our team."
Christian Fischer and Oliver Ekman-Larsson scored for the Coyotes, who have lost three of their last four games.
"Their three goals were just breakdowns," Fischer said. "I think for the most part we probably out-chanced them and limited their top guys." Fischer showed a great second effort to lift his own rebound over outstretched Oilers goalie Cam Talbot during a scramble in front to give Arizona an early lead. It was the 17th time in 25 games this season that Edmonton has trailed 1-0.
Former Montana football coach interviews for old job
MISSOULA, Mont. — Former Montana football coach Bobby Hauck interviewed for his old job on Monday. Athletic director Kent Haslam declined to comment on specific candidates, but said the opening has garnered substantial interest.
Haslam said he still plans to interview other candidates, but told the Missoulian he wants to move the process along, noting that college football's early signing period runs from Dec. 20-22. The coaching position became open when Haslam did not renew the contract of coach Bob Stitt after three seasons.
Hauck coached at Montana from 2003 to 2009, during which the Grizzlies posted an 80-17 record and played in three FCS national championship games. He was the head coach at UNLV from 2010-14 and is currently the special teams coordinator and associate head coach at San Diego State.
More like this story