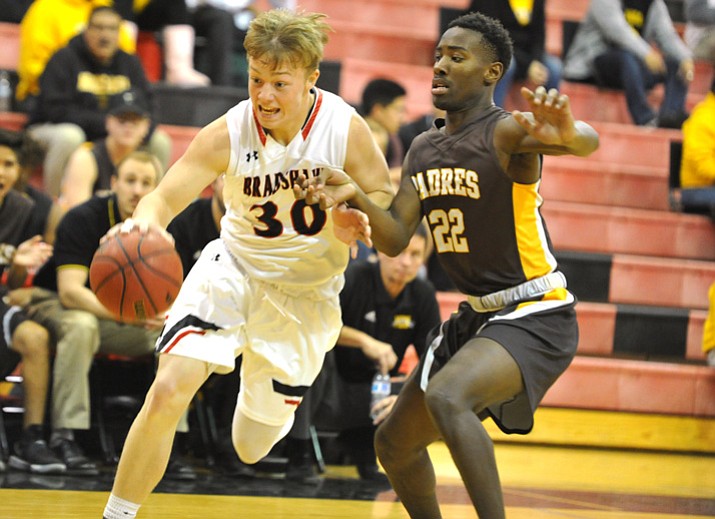 Originally Published: November 28, 2017 11:20 p.m.
Photo Gallery
BMHS vs Marcos de Niza Basketball 112817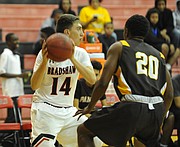 Minus starting swingman Jevon King and guard Timmy Young, Bradshaw Mountain's boys' basketball team struggled mightily in a 54-33 loss to athletic Marcos de Niza in 4A action Tuesday night at Gary Kunow Gym in Prescott Valley.
In their 2017-18 season home opener, the Bears' record dropped to 0-3 overall after playing their second game in as many evenings. On Monday, Bradshaw Mountain succumbed at 4A power Cactus Shadows, 75-44.
The Grand Canyon region Bears trailed only 21-17 at halftime Tuesday, but the Padres outscored them, 21-5, in a brutal third quarter and never recovered. Zach Wilder came off the bench to lead Bradshaw Mountain with 16 points, on the strength of three 3-pointers, and three rebounds. Post Travis Lamb added eight points and seven rebounds, and Ben Petro grabbed a team-high 11 rebounds.
"We felt pretty good in the first half, but the second half we just came out dead, and we've got some stuff to work on in practice," Lamb said. "We can only get better from here. Jevon and Timmy are a huge part of the team, and it sucks that they're hurt right now. Hopefully they can come back soon."
Bradshaw Mountain committed 26 turnovers, stopping key possessions in their tracks.
"We've got to execute plays. We've got to keep up the intensity throughout the whole game and not just the first half," Wilder said. "We've gotta get better in practice. We've got to work hard, and we've got to pass the ball around and not turn the ball over as much as we did this game."
Bears coach Matt Simpson agreed that his team didn't move the ball well, and wasn't as mentally focused as it should've been.
"We're trying to figure out who we are; trying to find our identity," Simpson said. "We know what our strengths are. We just have to execute them. We're getting there. We're still growing. The season's still early. But we're extremely disappointed with our effort. We'll figure it out. We'll move forward."
King re-aggravated a sprained right ankle at Cactus Shadows, and he won't return for the rest of this week. Simpson said King will be evaluated Monday. Young, who is recovering from a broken bone in his wrist, should be back in January for the second half of the campaign, Simpson added.
For Marcos de Niza, junior swingman Lovonne Brunson scored 11 points and hauled in seven boards. Janathon Bolds registered nine points and seven rebounds, and J.J. Hill followed with eight points and 10 boards. The Desert Sky region Padres (3-3) were coming off of a 2-3 showing at the Lancer Tip-Off Classic at Central and Salpointe Catholic high schools Nov. 20-25.
On Tuesday, the Padres committed 16 turnovers. They came in averaging 21 per game.
"We're trying to work on taking care of the ball, and tonight was another night that we didn't do that," Marcos de Niza coach David Stark said. "The kids played hard. They had a good second half. We're trying to make some things happen defensively. This is a solid team. We're going to win some ballgames here."
UP NEXT
Bradshaw Mountain heads to the Red Rock Hoops Classic Friday at Sedona Red Rock H.S. and will play three games, including 12:45 p.m. against Blue Ridge, 3:15 p.m. versus Snowflake and 5:30 p.m. vs. region opponent Mingus Union. The Bears will compete there Saturday as well.
Marcos de Niza visits Combs at 7 p.m. Thursday in San Tan Valley.
Doug Cook is a sports reporter for The Daily Courier. Follow him on Twitter at @dougout_dc. Email dcook@prescottaz.com or call 928-445-3333, ext. 2039.