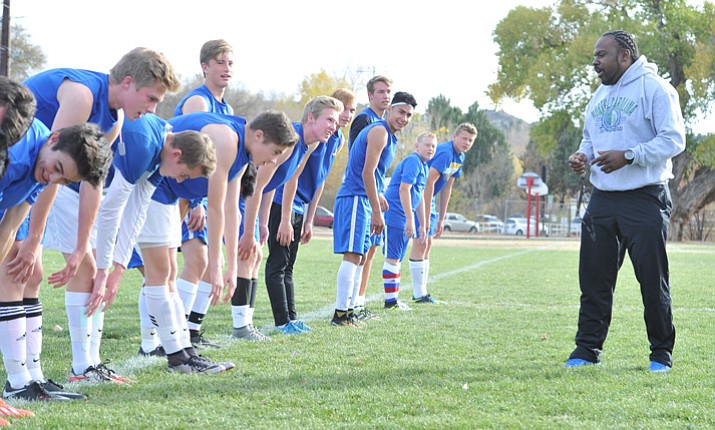 Originally Published: November 27, 2017 11:40 p.m.
EDITOR'S NOTE: Click to view the 2017-18 Prescott boys' soccer season preview capsule.
The Prescott athletic department introduced Philip Reid as the new head coach of the boys' soccer program not long ago, but he's already beginning to make his mark.
Reid began to shape the program to his image at the start of the year, and the payoff will hopefully be seen in today's first match of the regular season against Youngker.
"I wouldn't call it a re-imaging. I have continued to enhance what has been laid out before," Reid said. "I've tried to bring out of the current couple players the PHS Badger spirit of being dominant in soccer. That's one of the main things we are looking to do this year with the team. This year is just a continuation of dominance in a very intense way."
Reid won't do it alone. The first-year coach knows he'll have help leading the team to success this year because he is confident in the leadership abilities of his players.
"We started in the summer to buy into the main goal," Reid said. "Having the players see what we want to achieve at the end, which is a plus-.500 season. We set some goals, and once the players bought into those goals through the summer and preseason, you have those natural leaders that carry that out. It exhibits itself in the way they train. The way they speak to each other. The way they approach their schoolwork, just everything in the program."
Not only does Reid have confidence in his leaders, but in his team as a whole. His early outlook on the season is one of success.
"We will have periods of learning," Reid said. "We want to win every game, but we understand that losing is a part of that process and that development, so we will be having moderate progress as we go through the season."
Reid and his players know that they will need to start the season strong in order to be where they need to be by the time 4A Grand Canyon region play rolls around.
"We play all our region games in January, so we've organized the season as a training in such a way that we will peak at the right time," Reid said. "We want players to come out during regional play with maximum points, or do a plus-.500 season and come out winning more games than we lose."
UP NEXT
Prescott (0-0, 0-0 Grand Canyon) opens the 2017-18 regular season today at home as the Badgers welcome Youngker. Official start time is set for 5 p.m.
Haley Parson is a stringer for The Daily Courier. Follow her on Twitter at @Haley_Parson22, or reach her by email at sportsdesk@prescottaz.com.