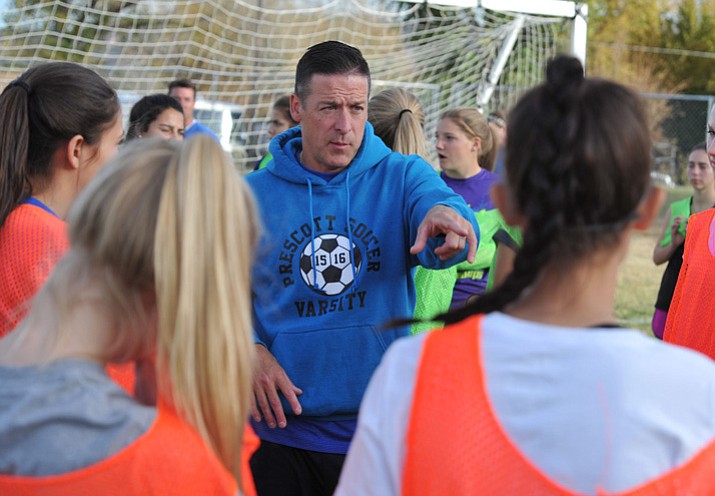 Originally Published: November 27, 2017 11:50 p.m.
EDITOR'S NOTE: Click to view the 2017-18 Prescott girls' soccer team season preview capsule.
It's a new and exciting year for the Prescott girls' soccer team, as a new coach takes the field looking to mold the program with his own touch.
Stepping into the role of head coach was not as daunting for Paul Campuzano because of the familiarity he built with his players as assistant coach in 2015 and 2016.
"Luckily all the girls know me," Campuzano said. "I've been with freshman since their first year and now they are seniors, and they all jumped right into the program this year."
With new leadership comes new coaching philosophies, which Campuzano has already started to impart on his players.
"We're really making it a program this year," Campuzano said of the structure of the team. "I think in the past the junior varsity has felt a little distanced from the varsity team, so when they get pulled up it's sort of awkward for them to play as a varsity player. We're practicing together now at least once a week, and I practice with both defenses for junior varsity and varsity so if they have to play up it's a seamless transition."
The players have already bought into Campuzano's program and have positive reaction to the new coaching.
"It's definitely different to have a male coach versus a female coach like the rest of my three years," Mikayla Sell said. "I think he's doing a good job because he knows what he's doing, so I think we're going to be good."
"He has a lot of experience with us," Sawyer Magnett said. "He knows what drills to do, and he tells us what we need to work on."
The Badgers ended their season with a loss in the semifinals of the state tournament last year, and have set a goal to return to state this year.
"Anything less than semifinals will be disappointing for [the team]," Campuzano said. "We have to start fast and can't drop any games at the beginning of the year, especially in our district."
Not only will the trek to the state tournament be led by a new head coach, but by the captains as well. Both Sell and Magnett have been appointed the leadership roles on the team this year, and already know how they are going to lead their team to another shot at a state title.
"I just want to be a team this year," Sell said. "In previous years we've had our groups, and this year we want to be one and have fun and go win."
"We will all need to come together and keep each other focused and have fun," Magnett said.
Haley Parson is a stringer for The Daily Courier. Follow her on Twitter at @Haley_Parson22, or reach her by email at sportsdesk@prescottaz.com.