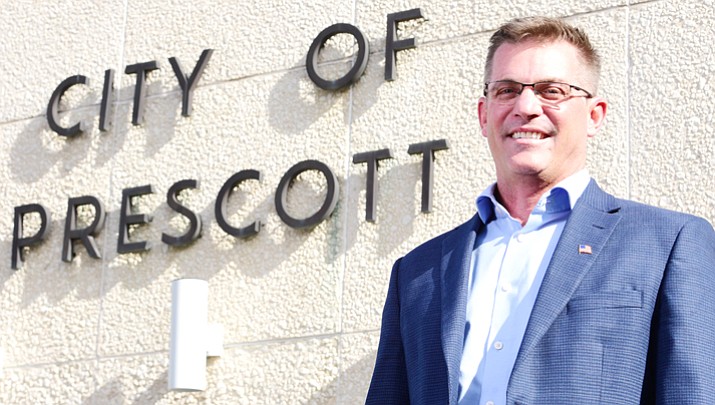 Photo by Les Stukenberg.
Originally Published: November 27, 2017 6:01 a.m.
This week's swearing-in of new Prescott City Council members will welcome a varied group that spans age, experience, and careers.
Among the four scheduled to take the oath of office on Tuesday, Nov. 28, are: the first non-retired mayor in about a decade; a veteran council member going on his fifth term; a retiree with a wealth of city board/commission experience; and the youngest council member in recent memory.
During the oath of office at the end of Tuesday's 3 p.m. meeting, new Prescott Mayor Greg Mengarelli is in line to replace outgoing Mayor Harry Oberg.
Mengarelli, 50, works as the CEO of the United Christian Youth Camps — a full-time job he plans to continue as mayor.
That differs from Prescott's three previous mayors — Jack Wilson, Marlin Kuykendall, and Oberg — all of whom were retired and spent relatively regular hours at city hall.
Mengarelli said this past week that while he likely would spend a concentrated amount of time listening and learning during his first month or two as mayor, he expects his time at city hall to taper off.
"It'll take me a little bit of time to get there, but I plan on having limited hours at city hall," Mengarelli said, noting that he intends to "rely heavily on (City Manager) Michael Lamar."
Mengarelli has emphasized that Prescott operates under a manager-council form of government, in which the mayor and City Council set policy, and the city staff carries out the day-to-day operations.
Along with his new mayoral duties, Mengarelli currently serves as president of the Prescott Unified School District Board. He pointed out, however, that the board-president responsibility would be complete at the end of 2017. The school board presidency typically lasts for a year, he explained, and then another board member takes on the role.
Mengarelli has another year left on his term on the school board, and he said he likely would continue on until the end of the current term, after which he will not seek re-election.
To give citizens an opportunity to meet and talk with him in his mayoral role, Mengarelli said he is considering setting up a regular time for one-on-one meetings at the Prescott Public Library, similar to the schedule that Lamar established when he came on board this past year.
"I want to do a lot of listening here in the first 30 to 60 days," Mengarelli said, adding that he has already been conducting meetings with city officials. "Mayor Oberg's done a great job, and I want to make sure we have a smooth transition," he said.
Mengarelli also plans to set up meetings with each of the council members to foster a good working relationship.
Throughout the 2017 campaign, Mengarelli emphasized the need for improvements at the airport, and he said he plans to continue the work that Oberg has done in that area. He also intends to continue efforts toward enforcement of the sober-living-home ordinance that the city adopted during Oberg's tenure. "I want to make sure we keep our finger on that — through code enforcement and the sober-living-home committee," he said.
Ensuring that the city pays down the Public Safety Personnel Retirement System (PSPRS) unfunded liability debt is another of Mengarelli''s priorities, and he said he plans to push that during his term.
Along with Mengarelli, other council members being sworn in Tuesday include:
• Steve Blair, 61, a Prescott native, who has served four four-year terms on the City Council. During the recent campaign, Blair emphasized his institutional knowledge from serving on the council, as well as previously serving on the Planning and Zoning Commission. Like Mengarelli, Blair also stressed the need for airport improvements.
• Phil Goode, 66, a three-year resident of Prescott who has volunteered for a number of city boards and commission, including the Planning and Zoning Commission, and the Mayor's Ad Hoc Committee on Structured Sober Living Homes. During his campaign for a council position, Goode listed the need to pay down the PSPRS debt, as well as continued enforcement on the sober living home issue.
• Alexa Scholl, 20, a student who grew up in Prescott, and focused on bringing job opportunities to the community to retain and attract more young people. (See related story).