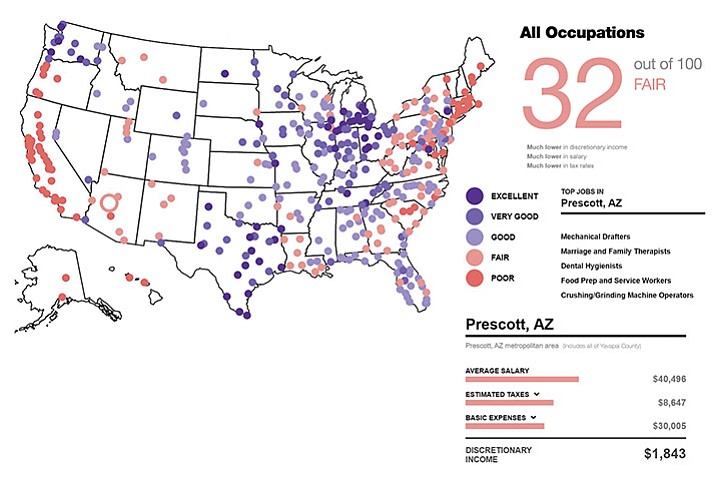 Originally Published: November 26, 2017 6:05 a.m.
Arizona All Cities
1) Yuma, AZ
2) Lake Havasu City, AZ
3) Prescott, AZ
4) Flagstaff, AZ
5) Tucson, AZ
6) Sierra Vista, AZ
7) Phoenix, AZ
After the utilities are covered, the rent is paid, taxes are deducted and spending on necessary items is made, how much money is left over to either save or spend?
Trove Technologies, a storage company based in San Francisco, recently took a look at this question for its first Trove Discretionary Income Study.
"The question that we asked ourselves was: if we had to keep the same job, but we could live anywhere else in the country, where would it be best to live from a financial standpoint?" said Michael Pao, CEO of Trove Technologies, which included nearly 800 occupations in the study.
The study takes into consideration quite a bit more than the typical cost-of-living calculator. It accounts for differences in salary across geographies, the impact of taxes (federal, state, Social Security, Medicare), as well as cost of living (groceries, healthcare, housing, transportation, utilities, etc.). However, the study's target persona is a single person sharing a two-bedroom apartment with a roommate, so discretionary spending for a homeowner or married couple is likely somewhat different than the results presented. Additionally, the annual salary estimates are based on the 2016 Metropolitan and Nonmetropolitan Area Occupational Employment and Wage Estimates, which does not account for Social Security checks, 401(k) disbursements, savings and other sources of income for retirees.
With all that in mind, Arizona as a whole ranked 38th in the country with an average annual discretionary income of $3,603. While fairly low on the totem pole, Arizona far outstripped California's average annual discretionary income of only $60 and Hawaii's of negative $6,541.
Seven Metropolitan Statistical Areas (MSAs) in Arizona were evaluated in the study. Of those, the Prescott MSA (which includes all of Yavapai County) was just above the fold in third place.

Using data from the Bureau of Labor Statistics, The Tax Foundation, and The Council For Community and Economic Research, Trove found that the Prescott MSA has a mean annual wage salary of $40,496, an estimated annual tax sum of $8,647, and basic annual expenses amount to $30,005, leaving $1,843 for discretionary use. This places the Prescott MSA in the 32nd percentile in the country.
"Our research shows that Prescott workers see 1.1 percent less discretionary income than they would doing the same job elsewhere in the country," Pao said.
Ben Hooper, Economic Development coordinator for the Town of Prescott Valley, took a look at the study and believes it to be of quality. The caveat when considering such information, however, is "with any piece of economic data like this, it's just one metric that absolutely should be taken with a grain of salt," he said.

That said, the Prescott MSA clearly isn't the best place in the country to find high-paying jobs, which is something that the City of Prescott recognizes and has recently been working toward improving.
"One of the things that we're doing in our economic development efforts is trying to bring in jobs that we do feel are what we're calling sustainable," said John Heiney, Community Outreach manager for the City of Prescott. "In other words, it would allow people to earn a good wage and afford to live here.
"That's why we're looking at things like trying to get some high-tech startups and satellite offices of technology firms here, as well as good quality manufacturing jobs."
Housing concerns
An additional concern for the quad-city area in particular is housing.
From Hooper's personal experience living in various parts of the country and then moving to the Prescott area about 16 months ago, he sees that the area's cost of living is reasonable, with the exception of housing.
"It's not that [housing] is unreasonable, it's just that it's a lot higher, and that's because there's a lot more competition," Hooper said. "If a house goes on the market, it doesn't stay on too long if it's a good house and a lot of the housing stock is new."
Of the areas looked at in the study, the Prescott MSA has the highest average cost for housing ($9,368) in the state. This compares to Phoenix's $9,334, Flagstaff's $9,270, Tucson's $7,554 and Yuma's $6,403 — the lowest in Arizona.
Some major findings for the Prescott MSA:
• Top quintile (higher-earning) occupations see the largest hit to salaries in Prescott, with workers in those occupations earning 14.6 percent below what they could elsewhere in the country.
• Prescott does rank well among all cities nationally for the following occupations: Protective Service Occupations (No. 25), Healthcare Support Occupations (No. 50), and Healthcare Practitioners and Technical Occupations (No. 119).