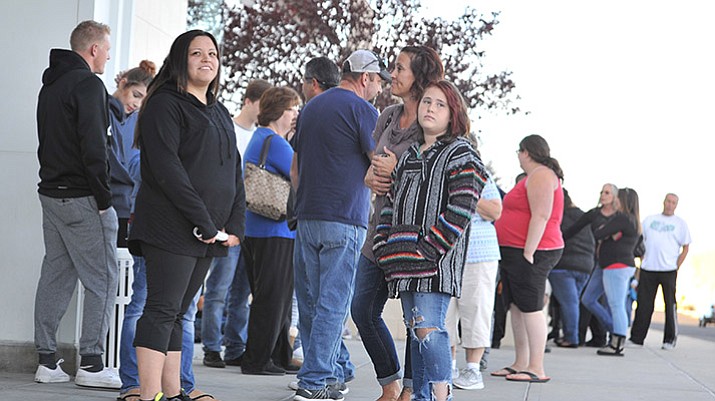 Originally Published: November 25, 2017 6:05 a.m.
Hesitation gripped shoppers early Friday morning, Nov. 24, as they sat in their vehicles just outside the Prescott Gateway Mall.
The question on everyone's mind was the same: when to start lining up.
James Patrick Brooks, 19, Corey Loring, 20, and Raphael Buisson, 19, made the first move at about 4 a.m.
"We ran up and then everyone followed," Loring said. "We were the first people in line here last year also."
Right behind the young men were Chrystal Kain and her daughter, Kaylee Day. Keeping them warm and comfortable in the early winter morning were chairs and disposable hand warming pads.
"We came prepared," Kain said.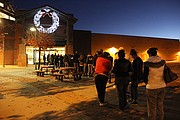 Waiting outside the entrance to the mall's food court for two hours wasn't for nothing.
The first 150 in line for the 6 a.m. opening received gift cards of either $25 or $50 to one of the shops located on the mall's grounds. The total giveaway amounted to $10,000.
For Kain and Day, this was all they came for.
"I don't think we'll do a whole lot of shopping here today," Kain said. "After this, we'll probably go to JoAnne's for their Black Friday and then maybe C-A-L Ranch."
The mother and daughter had already shopped some on Thanksgiving Day, going to Rue 21 and Ulta for early Black Friday deals, and then Wal-Mart later that evening.
Since Day had worked from 9 p.m. to 2 a.m. after their Wal-Mart visit and Kain was all jacked up for her annual Black Friday shopping marathon tradition, neither had slept the entire night.
Their mission this year — as it is every year — was to stock up for Christmas. "I buy a lot of clothes and kitchen stuff," Kain said. "The deals on clothes are great for the whole family."
Day's big purchase for herself this year was a Play Station 4, a popular video game console. "It was $100 off," she said.
While they didn't make it to Kohl's, the department store was one of the busiest in the quad-city area for Black Friday.
Before the store's employees even opened the doors at 5 p.m. on Thanksgiving Day, there were nearly 250 people lined up outside the entrance.
To keep that many people calm and orderly in what can be a hectic environment, the store's employees formed a human wall along the outer edge of the line near the entrance by holding hands.
"We call it wrapping our arms around our customers," said Carole Taccini, the store's manager. "Everyone files in nice and friendly. We've always found that works really well."
Shopping the mall
With their Prescott Gateway Mall gift cards acquired, Brooks, Loring and Buisson quickly went to see what they could get with their newfound money.
The first stop was Journeys, a teen-oriented clothing, shoe and accessories store. "We've got a plethora of deals today," said one of the store's attendants as the trio entered.
Brooks, who had received a $50 gift card to the store, decided to buy a pair of shoes. "I always go for Polos," he said.
Buisson works inside the mall at Spencer's, a quirky chain gift shop. On a normal day, the shopping center can be dead quiet, he said; but sales events like Black Friday attract decent foot traffic. "These days are really important," Buisson said.
Yet even the impact of Black Friday is waning as more and more consumers turn to shopping online. According to a survey by the National Retail Federation, 59 percent of shoppers plan to shop online this year — the first time more people said they plan to shop online than in big box stores such as Wal-Mart and Target.
As the three young men weaved through several more stores to browse the deals, the sun just started to peak over the hills in the distance. "Ah, look at that sunrise," Buisson said.
"It's nice to be up in the morning," Brooks said. "I sleep in like every single day."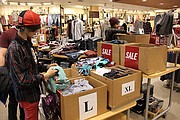 And as their Black Friday shopping experience wound down, Brooks decided he'd go back to Journeys for one more look.
"I'll maybe pick up some socks after I said I wouldn't," he said. "I probably won't be back to the mall for a while, so I might as well."
Holiday shopping continues
The biggest shopping weekend of the year is far from over. Remaining are Small Business Saturday and Cyber Monday.
Small Business Saturday is an American shopping holiday that takes place on the Saturday after Thanksgiving. American Express started the event in 2010 as a way to help mom-and-pop stores better market themselves during the holiday shopping season. Dozens of stores in and around downtown Prescott are participating this year and some are offering special discounts to highlight the occasion. Click here for a roundup of Small Business Saturday deals.
Similar to Black Friday, Cyber Monday is a sale bonanza for merchandise throughout the world. The only difference is all of the deals are strictly online.
According to an annual survey by the National Retail Federation and Prosper Insights & Analytics, 69 percent of Americans – an estimated 164 million people – either plan to shop or are considering shopping at some point during the Thanksgiving weekend.
The Daily Courier
More like this story