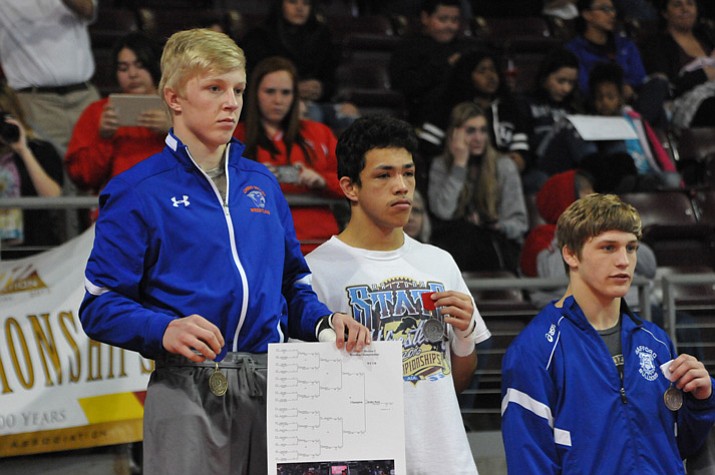 Originally Published: November 24, 2017 11:10 p.m.
This winter, Chino Valley's wrestling team returns nine grapplers, including a defending state champion, from its 2016-17 squad that placed 21st out of 44 schools at the Division III state tournament in February at Prescott Valley Event Center. But the Cougars are also youthful and inexperienced. How will that pan out?
Part of the answer to that question may become clearer when the 2017-18 season opens for the D-III, Section IV Cougars in the annual Yavapai County Duals at 8 a.m. Saturday at Embry-Riddle in Prescott.
Under first-year coach Kevin Giese, Chino Valley's primary strength rests in its middle weight classes. The Cougars are guided by sophomore Keller Rock, the defending D-III state champ at 138 pounds who compiled a 46-4 record last winter.
"If we can step up the work ethic, and start working a little harder in the room and getting more technique down, maybe even by the end of this year and maybe next year, we'll be pretty good," said Rock, who runs the team's warmups at practice.
This season, the 5-foot-11 Rock moves up to the 160-pound class. However, he said he hasn't fully committed to that weight and could choose to compete at either 152 or 170 at state.
"Usually about after every season I gain 20 pounds, and I hit a big growth spurt," Rock said. "This year will be a little tougher than last year. I'm probably not locked in at 160."
At 152, Safford junior Dawon Andrews is the defending state champion. A two-time state champ, Andrews went 48-1 as a sophomore. At 170, Show Low senior Jackson Allen is a three-time defending state champ who finished 46-1 last winter, winning the title at 160.
Juniors J.C. Mortensen at 145 and Kyle Lund at 152 bolster Chino Valley's starting lineup. Mortensen didn't reach state in 2017, although he placed fifth at 120 in 2016. Chino Valley graduated only one senior from the 2016-17 season in 126-pound state tournament qualifier Austin Ehlert.
Lund has lofty ambitions for himself and the Cougars.
"I definitely want to make it to state, and my goal this year is definitely for me to win a state championship," Lund said. "We're really going to do good this year."
GIESE FACTOR
Giese, originally from Wisconsin, coached at Heritage Middle School in Chino Valley for the past two years, and he has 11 years of experience at the middle school level. He's also coached fifth- and sixth-grade intramural wrestlers. Giese said he likes that most of his Cougars are solid at takedowns and riding their opponents. However, he wants them to improve on escaping off the bottom in potential pin situations.
"We're basically just trying to get them back into practice, but our strong points are going to be from basically our 113 [pounder] up to our 170s," Giese said.
Rock, an All-American who placed third at nationals at 145 pounds in the off-season, should contend for another state title. He trains year-round in several states and competes for Whammer Wrestling Academy, a USA Wrestling Club team based in Chino Valley. Rock wrestles freestyle, too.
Over the summer, Rock broke his left thumb at nationals. But it has healed with help from a cast.
ALMOST FULL
Giese said he's currently two wrestlers shy of a complete team, and he's looking to fill spots at 126 and 138 pounds.
Rounding out the projected lineup are freshman Jason Ehlert at 106, sophomore Zachary Giese at 113, junior Wade Payne at 120, sophomore Cody Jasper at 132, junior Clay Stephenson at 170, sophomore Caesar Ocampo at 182, senior Tyler Plumb at 195, junior Jimmy McCormick at 220, and junior Samson Estala at heavyweight.
Zachary Giese, Payne, Jasper, Mortensen, Lund, Rock, Ocampo, Plumb and McCormick are returnees. Coach Giese said he hopes that this season the Cougars can "move up in our [division] standings by getting a few extra of the upper-weight people that we need."
"I have high hopes for all of them," coach Giese said.
Giese said he's excited about the team's future. Former head coach Allen Foster agreed to return as an assistant to teach technique after assistant Shea Kendig departed. Assistant Gordon Cobb is also back.
"Having Shea in the room was good for a lot of us, because he knew every kid on the team and he knew what kids were going through and what they needed help with," Rock said. "It's a little bit different."
Plumb is the team's lone senior. However, this season, Giese said he has 19 wrestlers in the eighth-grade feeder program at Heritage Middle School who are preparing themselves to transition to the high school in 2018-19.
"It's just going to keep getting better for the next couple years," coach Giese said of his varsity program. "We should have a full roster next year as well."
Doug Cook is a sports reporter for The Daily Courier. Follow him on Twitter at @dougout_dc. Email dcook@prescottaz.com or call 928-445-3333, ext. 2039.