Originally Published: November 24, 2017 6:05 a.m.
Updated as of Friday, November 24, 2017 10:53 AM
With more entries than ever this year, Prescott's Holiday Light Parade is the largest ever this year, according to parade organizers.
It all starts at 6 p.m. Saturday, Nov. 25, in downtown Prescott.
Now in its 22nd year, there are 36 entries plus three school bands, including the Chino Valley High School Marching Band opening the parade and Franklin Phonetic School along with Cactus Shadows High School, coming up from the Valley for the first time, said Prescott Downtown Partnership Assistant Director Debbie Koch.
"They're the Falcon Pride Marching Band," Koch said. "They're going to come and be a part of our festivities."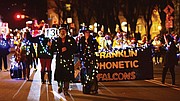 It's going to be a lot of fun with the usual participants like Unisource, which goes all out for the parade and has been doing so for the last six or seven years, she said. Some businesses are participating for the first time ever too, such as Lessons by Lexe and Nationwide Vision.
This parade goes in reverse of a lot of other parades Prescott Downtown Partnership puts on, Koch said. It starts on Cortez Street and Carleton Street, goes north past the courthouse to Willis Street, takes two lefts and comes up Montezuma Street along Whiskey Row and ends at the entrance to Prescott Mile High Middle School, she said. Immediately after the parade, the entrants have the option to park around the school's field for the third annual after-parade party and bonfire where there will be reindeer games and a holiday music by a band and DJ, Koch said, adding that, sponsored by Spice Traveler and Plaza View Ballroom, it is free to everybody.
The parade is such a great and small community sort of event, Koch said. Not only that, but it's on Thanksgiving weekend, when everybody has visitors in town.
"It's that spirit. Here we are in Arizona's Christmas City and it kicks off … Prescott's festivities for our Christmas moniker," she said. "It's fun, everybody participates."
The biggest challenge to putting all of this on comes from the after party, Koch said. With it being in the school's field, what's needed are lights and power, meaning there's a little bit of organization.
Still, there are a lot of people who come together to make all of it happen, Koch said. They're all volunteers too, she added.
"They do it out of their own sense of community," Koch said. "We have an amazing town and people that will bust their chops to help."
More like this story