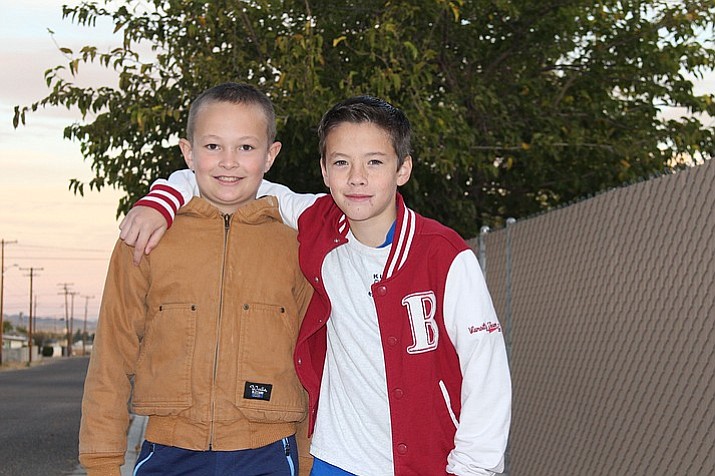 Originally Published: November 21, 2017 6:02 a.m.
KINGMAN, Ariz. — Brennon McKinney and Evan Bond have been best buddies since first grade, and they now have a friendship story to share for their lifetime.
As fourth-graders at Manzanita Elementary School in Kingman, the boys were waiting for the bus last month when Evan got a piece of Sour Punch candy stuck in his throat and couldn't breathe.
Brennon thought his friend was faking it at first, but soon realized he needed to call upon his YouTube education on how to perform the Heimlich maneuver (also known as abdominal thrusts).
"It's a thing that could save their life where you pick them up and squeeze their stomach really hard until the food comes out," Brennon said Thursday during an interview at the bus stop. "It took two pushes."
Jamie McKinney, Brennon's mother, is a longtime friend of Evan's mother, Jennifer Rael, from previous employment. She got a call from her friend that they were taking the boy hero to McDonald's for his quick actions.
"When he got home, I asked where he learned that (Heimlich), and he said on YouTube," McKinney recalled. "I don't like the internet. I'd like kids to get outside and play, and it made me realize the internet's not all bad. There are benefits of the internet."
Brennon said he was watching a murder mystery show when he picked up on 10 or 15 ways to save someone's life, including the Heimlich maneuver. He went online and found the YouTube video.
McKinney stopped short of calling Brennon a lifesaver, but said "he definitely did something to prevent something further from happening."
Brennon said he wants to be a "YouTuber," someone who records YouTube videos.
RELATED VIDEO: Choking Motorist Departs After Heimlich Maneuver
You might also like: How to Perform the Heimlich Maneuver on a Cat or Small Dog