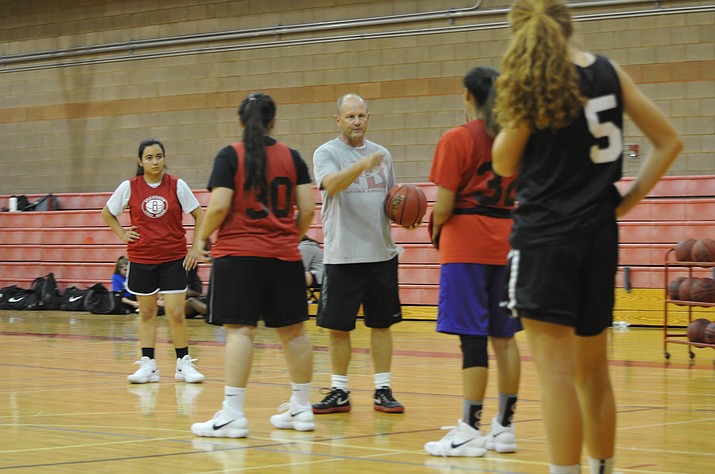 Originally Published: November 20, 2017 6:02 a.m.
Bradshaw Mountain's girls' basketball team graduated six seniors, each of whom played key roles, this past off-season, leaving third-year coach Rick Haltom with a green group that has talent, but will need time to mature on the court in 2017-18.
The 2016-17 Bears finished with a 16-13 record, losing to Shadow Mountain in the first round of the 4A State Tournament Feb. 14.
At 5:30 p.m. tonight, Bradshaw Mountain tips off the current season at Grand Canyon region foe Flagstaff, which succumbed in the state semifinals to eventual runner-up Cactus Shadows back in February.
"Our goal every year is to make the state tournament, and that will be our goal again this year," Haltom said. "We'd like to finish in the Top 3 or 4 of our league [region]."
The Bears have a 12-player roster that includes three seniors, seven juniors, a sophomore and a freshman. Only four of the 12 have varsity experience, however.
"We're a little inexperienced at the varsity level, but we're getting there, and we're growing as a team," junior center Rylee Bundrick said. "Once we get going, and figure all the little things out, we're gonna do good. We're gonna go far."
Senior point guard Mica Nellis, 5-foot-5 senior shooting guard Berlin Cormeyand Bundrick, a three-sport athlete, saw significant playing time last winter and will lead Bradshaw Mountain, along with junior center Delanie Clark.
Haltom expects to start Second Team All-Region pick Nellis, senior guard Jesycca Cambalon, Bundrick, Clark and athletic sophomore swing Peyton Bradshaw. Cormey, who typically starts at shooting guard, is out of the lineup with an injured hamstring, but she should return shortly after Thanksgiving to relieve Cambalon.
"We're trying to get those girls who played JV up to par with some of the other girls," Haltom said. "It's been a little difficult right now. The game is so much faster at the varsity level – so much stronger, so much quicker. The girls jump higher. They're faster. We're trying to get them out of the JV mentality and into the varsity mentality. That's been a big challenge for us right now, but they're learning."
Bradshaw Mountain shoots well, both along the perimeter and in the paint, with Nellis, Cormey, Cambalon, Bradshaw and Bundrick in the fold. Bundrick and Clark are solid rebounders. Peyton Bradshaw's also strong defensively. Haltom said that despite the team's inexperience, it has the requisite will to compete.
"Everyone is at different experience levels. But as long as we have encouragement, it builds them up and it makes them do better," Nellis said of her teammates. "We do have speed, so speeding it up will benefit us. We'll have a lot of fast breaks. And once we do slow it down, if we just relax ourselves, we'll be OK both ways."
Over the summer, Bradshaw Mountain played four games in a tournament at Northern Arizona University in Flagstaff, 12 contests in the Thunderbird league in Phoenix and several games with its Club team, the Arizona Dash.
"We got about 35 games in this past summer, which is really great for the girls who played JV who are coming up to varsity," Haltom said. "That really helped them a lot. Hopefully that's going to carry over a little bit."
The Bears have a difficult schedule, though. In addition to their challenging region slate, they will play at the Lake Powell Holiday Classic starting Nov. 30 in Page, host defending 4A state runner-up Cactus Shadows Dec. 13, and visit defending 4A state champion Seton Catholic Feb. 2.
"We've got our work cut out for us," Haltom said.