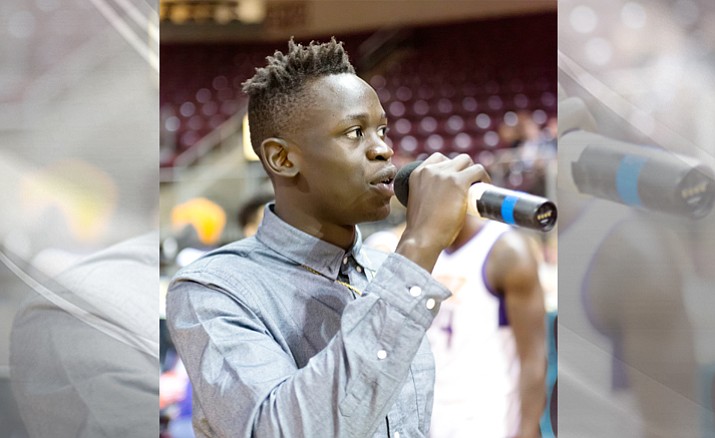 Originally Published: November 20, 2017 6:02 a.m.
Northern Arizona Suns basketball player Peter Jok didn't hesitate when I asked him where his family's commitment to giving back comes from.
"My uncle," Jok said.
Jok's uncle is Manute Bol, the former NBA star, one of the greatest shot blocker's in the sport's history. Bol established the Ring True Foundation, which raised funds for refugees from his native Sudan. He spent a lot of the money he made in the NBA trying to help the people of Sudan, which had been engaged in a civil war for decades. He did so much more worth mentioning, but this column isn't about Bol, who died in 2010.
Los Angeles Lakers player Luol Deng is Jok's cousin, and he too gives back. He is involved in a children's charity in the United Kingdom, which is his home. He has done work on behalf of the Lost Boys of Sudan, who were boys orphaned by the wars in that African nation. He traveled with the NBA's Basketball Without Borders tour, trying to bring hope to different parts of the world and he's a spokesman for the United Nation's World Food Programme.
But this column isn't about him either.
Nor is it about Jok's older brother, Dau, currently serving in the U.S. Army and stationed in Georgia. Dau played Ivy League college basketball at Penn and has already started giving back. He started the Dut Jok Youth Foundation, named after his and Peter's father, who was a general assassinated during the civil war when they were 6 and 3 years old.
The foundation tries to empower South Sudanese youth through education, recreational sports and leadership programs.
Both Jok brothers have said they are grateful for the opportunities they have found in America.
This column is about Peter, currently on the sidelines because a right groin injury has delayed the start of his pro career. Peter was the leading scorer in the Big 10 last year playing for the Iowa Hawkeyes.
He has an amazing personal story, one that is way too big for one column. So we'll just tackle a small piece of it.
Before his senior year Peter was not really called upon to be a leader.
"I feel like it wasn't natural to me because my whole family, growing up, I always had leaders [around me]. My dad was a leader, my mom's a leader, my brother was a leader, I also have other family members like uncles and cousins who are leaders. I feel like I didn't need to be a leader."
Then his coach told him before his final year with the Hawkeyes that it was his team now, he was the leader.
"Even though it didn't come natural to me, it was easier than I thought because there are a lot of leaders in my family."
Peter took to it, even skipping the goodbye party for Dau before his brother entered military service so that he could work out with his teammates.
Last January, Peter was again called upon to be a leader.
"Where I came from in Des Moines, I had a lot of immigrant friends, and I'm a big role model in my community," Peter said. "I was in a position where I had a voice, so for me to do that was a big deal."
President Trump had just announced his first travel ban, saying immigrants from seven nations would not be allowed into the United States. Sudan was one of the countries on the list, causing a lot of consternation for Jok's neighbors in Iowa.
He sent out an Instagram post with a statement, opposing the ban and speaking out for immigrant families across the United States, but specifically for the Sudanese immigrants who had settled in Des Moines, Iowa.
"I just felt like I had a voice, and I had to do it for the people who didn't have a voice."
ESPN wrote about his protest, then other media as well.
The NBA draft was in his immediate future, and he was no lock. His outside shooting is superb, but scouts worried about his inside game and felt that needed to improve before he would be ready for the next level. Most viewed him as a second rounder. Speaking out about politics and putting a spotlight on himself could cost him. As it turned out, Peter Jok was not drafted.
"I didn't really think about it like that," Peter said. "I wasn't thinking about basketball, this is real-life stuff, basketball is not who I am, it's just what I do. I was just thinking about what I could do for my community."
When President Trump revised his travel ban in September, he removed Sudan from the list. When asked why, the president struggled to answer. To date, the White House still has not provided a logical reason why Sudan was removed. Jok, who is Catholic, continues to oppose the ban because of the hardship it places on immigrant families.
America is better for the contributions of this immigrant family. So is the world.