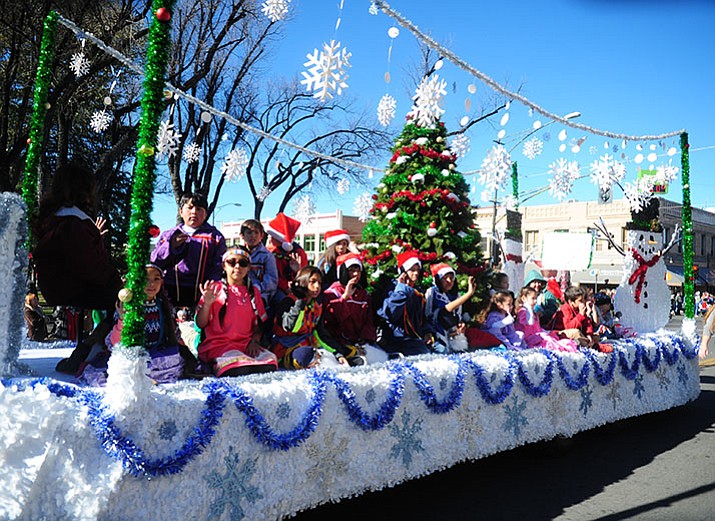 Originally Published: November 18, 2017 6:02 a.m.
Prescott was labeled "Arizona's Christmas City" in 1989 by then-Gov. Rose Mofford.
The city's recognition as a Christmas hotspot dates well before that, however.
It all started in the mid-1950s with the traditional Courthouse Lighting, then grew in the early 1980s with the addition of the Christmas Parade, and later, with the popular Acker Musical Showcase.
"It's the spirit of the holidays that's important to the residents and the people, and we're all very proud of that," said Debbie Koch, assistant director of the Prescott Downtown Partnership.
That fervor year after year has garnered the attention of national publications like Country Living, which recently included Prescott on its list of America's 23 Best Small Towns for Christmas.
Coming in at No. 21, Prescott is described in the magazine as a place where the West meets the magic of Christmas.
"The holidays take on a Western twang in Prescott," the magazine wrote. "Activities center around the Courthouse Plaza, ablaze with more than a million lights for the season and site for the town's Christmas tree. On the day of the tree-lighting, Sharlot Hall Museum hosts a Frontier Christmas Open House here where locals enjoy hot cider and cookies while listening to stories about pioneer holidays."
Sheri Heiney, CEO for the Prescott Chamber of Commerce, is not surprised that Prescott would land on such a ranking.
"One might call this a desert because we're in Arizona, but we have this beautiful setup," Heiney said. "The mountains and everything just makes it feel special. And our downtown is just beautiful. The courthouse is historical; the buildings are well kept; and we have fantastic businesses that go all out and decorate their stores."
This year the annual Christmas Parade and the Courthouse Lighting that evening are scheduled for Saturday, Dec. 2. The Acker Musical Showcase, also known as Acker Night, is set for Friday, Dec. 8.
For information about events coming up in Prescott to celebrate the season, visit dCourier.com, Prescott-az.gov/events, Prescott.org, or pick up Prescott Kudos in The Daily Courier.