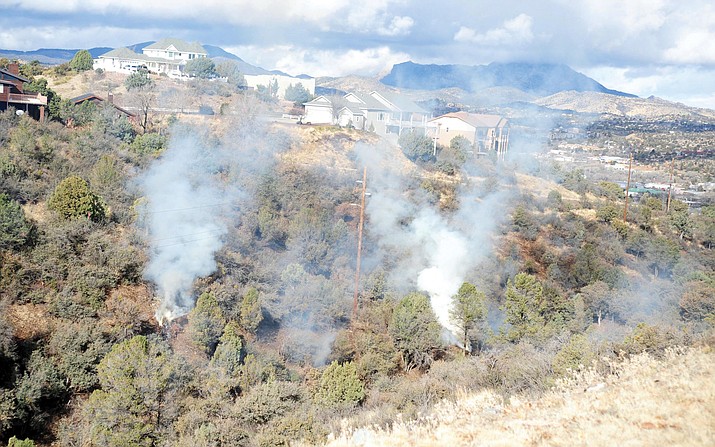 Originally Published: November 14, 2017 6:02 a.m.
This time of year, when the leaves pile up, and the trash bags full of them become too much to deal with, many people, especially those who don't live in a congested area, choose to burn them.
That may be fine, but you need a permit to burn them.
From time to time, someone will burn leaves without one.
"Illegal burns a pretty common for a number of reasons. A lot of people just don't know the process," Prescott Fire Department Division Chief Don Devendorf said. "Less frequent are those that know but want to burn items that aren't allowed, like trash and larger limbs, hoping they will burn quickly and not get caught."
"Some people didn't know they needed a burn permit or say they didn't know they needed a permit and some just try to get away with burning without one," Central Arizona Fire and Medical Authority Division Chief Rick Chase said.
PERMITS
Permits serve two purposes. One, they inform the fire department of the fire.
"Whenever someone burns the dispatch center almost always receives phone calls from concerned citizens," Chase said. "The dispatcher can look up any activated burn permits in the area and know if that's what the smoke could most likely be coming from."
He pointed out that they will still dispatch an engine to the scene to make sure it's not something else on fire and if it's permitted, that it's within regulation and activated.
Two, when you apply, you're told whether open burning is currently allowed or not.
"There are a lot of days throughout the year where burning is suspended due to sustained winds over 15 mph or red flag conditions and they will find that out when attempting to activate their permit," Chase said. "Our area is very susceptible to a catastrophic wildfire all through the year."
A burn permit allows only vegetation to be burned.
"You cannot burn construction materials, cardboard, trash, paper, furniture or anything else that's not natural vegetation. There also needs to be a water source on hand and the burn pile a certain distance from structures and combustible items," Chase said.
Getting a permit is easy, and they're free.
To file for a permit online, go to either prescott-az.gov/services/fire/permits or cazfire.org and click "obtain burn permits here."
It you'll be told if burning is allowed or burning is suspended and if it's suspended a burn permit cannot be acquired or activated.
If burning is allowed you can apply for one or activate a current one.

If you don't have a computer, you can go to the nearest fire station, if the crew is in quarters, or the lobby of station 61, 1133 W. Road 2 North, in Chino Valley.

In the Groom Creek Fire District only, call the local Fire Administrative Office at 928-778-6519.
Burn permits are good through the calendar year which they are obtained. They can be activated online throughout the year or by calling the non-emergency dispatch number, 928-445-5357.

Should you try to get away without a burn permit, you're taking a chance, Devendorf said.
"That chance is a legal chance both criminally and civilly. If they burn during fire restrictions, they can be cited into city court for a misdemeanor. If they start a fire, even with a burn permit, that causes damage to someone else's property, they can be held liable for the damages," Devendorf said.
"If they burn without a permit and cause damage or harm, they can be charged with reckless burning, and if it can be proven that they knew better, they can be charged with being criminally negligent."
More like this story