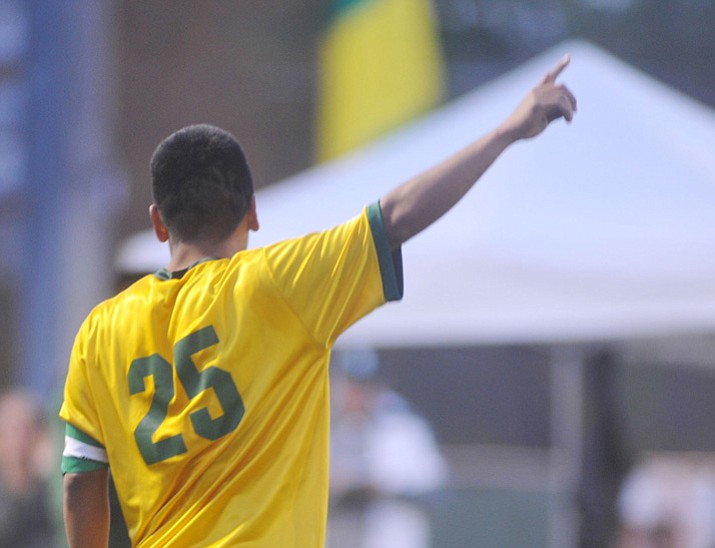 Originally Published: November 13, 2017 11:45 p.m.
Photo Gallery
YC vs Waubonsee Soccer 111317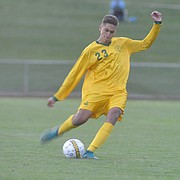 On an opening day in which each of the Top 4 seeds in the 2017 NJCAA Division I Men's Soccer National Championship tournament pitched shutouts, third-seeded Yavapai College and its high-powered attack made the most convincing statement.
The third-seeded Roughriders cruised past No. 10 seed Waubonsee Community College of Illinois, 9-0, in pool play Monday at Mountain Valley Park Amphitheater in Prescott Valley, setting a new NJCAA single-season record for goals scored with 136 in the process.
"We wanted an up-tempo game. Prescott Valley's located at 5,000 feet elevation and above, and I don't think that's the elevation of Sugar Grove, Illinois," said Yavapai coach Mike Pantalione, referring to the Waubonsee campus' 722-foot elevation. "We wanted to take advantage and develop a passing game because of the elevation factor between the two programs."
Yavapai also held the previous national single-season scoring record of 134 goals scored, which its 1993 team established. Freshman reserve defender Jacob Downey's goal on a gorgeous 40-yard shot in the 57th minute pushed the Roughriders over the mark with their 135th goal of the fall.
The Roughriders' bench and the players on the field cheered and hugged briefly on the sideline after Downey scored, in part because it was his first goal of the season. Reserve forward Alexander Guadron drilled Yavapai's 136th goal nearly 30 minutes later.
Yavapai's offense put on a clinic en route to notching the program's 107th all-time postseason victory since 1990 in its 700th match since the program's founding in 1989. Recording its 10th straight victory since Oct. 7, Guadron and freshman attacker Angel Lujan scored two goals each, all in the second half. Five other Roughriders registered a goal, including Carlo Quesada, John Scearce, Jose Perez Flores, Ziyad Fares and the aforementioned Downey.
In the assists department, David Gandara notched three, all in the first half, followed by reserve Angel Lopez's two.
"We got off to a fast start, and that was the key," Gandara said. "From there, momentum shifted. Our defense also kept us solid, and didn't allow any goals. Everyone got good rest, everyone got good minutes. We'll be ready on Wednesday [for our final pool-play match versus Mercer County]."
Will Baynham, Lorenzo Macias and Fares added an assist apiece.
"We weren't really focusing on them at all," Baynham said of Waubonsee. "We were just trying to do our own thing – come out strong like we said before, and that's what we did. We were really happy about that."
Yavapai dominated the match from the opening kickoff, utilizing its speed and quickness up front and its fitness in mile-high altitude to its advantage.
"It's good that everyone was involved in a national tournament match; it was also important to save our legs for Wednesday's match against Mercer," Pantalione said.
The Roughriders grabbed a 4-0 lead in the first half with their starters. Pantalione played his reserves for the entire second half, and Yavapai didn't skip a beat.
"It's great to have everybody out there and get a taste of what it really is [like at nationals]," Lopez said.
Added sophomore reserve attacker Matthew Jordan, "We knew any rest we gave the first group was going to be huge. They got us off to a great start, and we just picked up where they left off."
For the Chiefs of Sugar Grove, Illinois, who were making their first NJCAA tournament appearance, they learned a lesson about how difficult it is to play the Roughriders on their own turf. Yavapai had 13 shots on goal to Waubonsee's two for the match.
"Being Yavapai's field and all that, they came out with a lot of energy, and they've had good competition the whole year," ninth-year Waubonsee coach Brett Suhayda said. "Making the trip over here, we were a little bit awestruck. The pressure got to a bunch of guys. This is not how we play."
The Chiefs were tired in the second half, and simply couldn't keep up with Yavapai's frenetic pace.
"We were just finding the gaps, honestly," Lopez said. "They were leaving some open spaces, and the guys saw them. We would look for their mistake, and at the same time hustle and just pressure that spot where they were missing a link."
UP NEXT
Seven-time national champion Yavapai (22-2-3 overall record) has an off day today. The Roughriders will prepare for their second and final pool-play opponent, sixth-seeded rival Mercer County (New Jersey), at 2:30 p.m. Wednesday at Mountain Valley Park Amphitheater. The all-time series is tied at 4-4-1 dating back to Yavapai's second season in 1990.
Doug Cook is a sports reporter for The Daily Courier. Follow him on Twitter at @dougout_dc. Email dcook@prescottaz.com or call 928-445-3333, ext. 2039.
More like this story