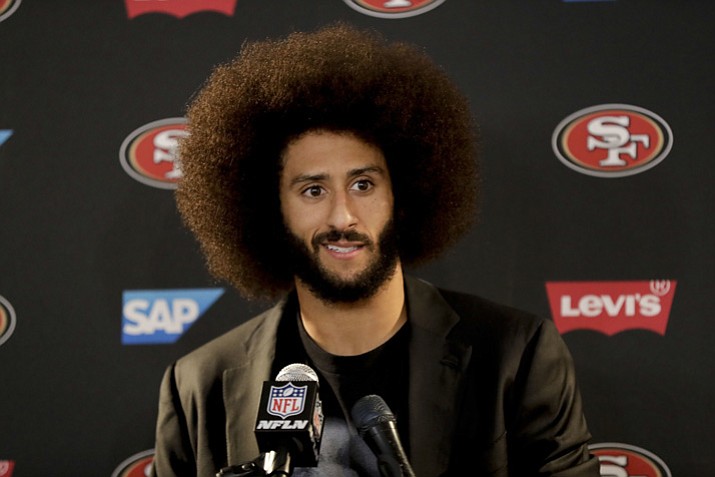 Originally Published: November 13, 2017 11:10 p.m.
NEW YORK — Free agent quarterback Colin Kaepernick has been named GQ's magazine's "Citizen of the Year" for his activism.
Kaepernick began kneeling instead of standing during the national anthem last season to protest racial inequality and police brutality. The demonstration sparked a wave of NFL protests by players during the anthem that repeatedly have been denounced by President Donald Trump. Kaepernick parted ways with the San Francisco 49ers in March and hasn't been signed by another team.
Kaepernick says on Twitter he's "honored" by the recognition.
The magazine 's story includes comments from several of Kaepernick's supporters and confidants. Rapper J. Cole says Kaepernick "sacrificed his dream" to stand for something. Ninety-year-old singer and activist Harry Belafonte says seeing people like Kaepernick taking action is "the greatest reward" he could ask for.
Beltran retires at 40 after winning 1st World Series title
HOUSTON — It took quite some time, but Carlos Beltran finally got there, winning a World Series title after 20 seasons in the majors.
Now he is leaving the Houston Astros and leaving baseball, retiring after a career in which he was a nine-time All-Star and was Rookie of the Year. The 40-year-old designated hitter and outfielder made the announcement Monday, 12 days after the Astros beat the Los Angeles Dodgers in Game 7 of the World Series.
He announced his retirement in an essay written for The Players' Tribune website. His story touched on what finally winning a championship meant to him.
"I realized early on that my purpose in this game was to share knowledge with younger players and to give back to the game of baseball," he wrote. "I always wanted to do that — that, and be the best teammate I could possibly be. Over 20 years, I feel like I accomplished that.
"So whether we won or lost Game 7, I would have still been happy with my career. But it still feels nice to have a ring," he continued. Besides being named an All-Star nine times, most recently in 2016, and the 1999 AL Rookie of the Year, he won three Gold Glove and two Silver Slugger awards.
Bengals' Burfict avoids suspension for contact with official
CINCINNATI — Bengals linebacker Vontaze Burfict won't be suspended for the contact with an official that got him ejected from a 24-20 loss at Tennessee.
A league spokesman said Monday that Burfict faces a fine only. He pushed an official's arm out of the way on the sideline in the second quarter after quarterback Marcus Mariota ran out of bounds. Two plays earlier, Burfict drew an unnecessary roughness penalty for hitting Mariota out of bounds.
"I've been saying it: He's going to be held to a different set of standards because of his past," defensive coordinator Paul Guenther said Monday. "So he's got to understand that. He does us no good when he's sitting in the locker room for half a ballgame."
It was the second game in a row that the Bengals (3-6) had a star player ejected before halftime. Receiver A.J. Green was kicked out of a loss at Jacksonville after grabbing cornerback Jalen Ramsey around the neck, tackling him and punching him.
The outburst by Green was out of character. He apologized after the game. Green was fined $42,541 by the NFL but wasn't suspended. Ramsey also was ejected from the game but wasn't suspended or fined.
Auburn places 2 support staff members on leave
AUBURN, Ala. — Two members of the Auburn basketball support staff have been placed on administrative leave because of an internal investigation into the program.
The school released a statement on Monday saying Jordan VerHulst and Frankie Sullivan are on leave "until further notice based upon the University's ongoing investigation into the men's basketball program."
Auburn hired Birmingham law firm Lightfoot, Franklin and White to review the program after former associate head coach Chuck Person's September arrest in a national federal investigation of corruption in college basketball.
VerHulst is in his fourth season with the program, including his first as the special assistant to the head coach. Sullivan, who is the video coordinator, has been on coach Bruce Pearl's staff for three seasons. Sullivan played for Auburn from 2009-13 and was team captain for three seasons.
LeBron: Smith comments a shot at Phil Jackson, not Ntilikina
NEW YORK — LeBron James says his belief that the Knicks should have drafted Dennis Smith Jr. wasn't meant to slight Frank Ntilikina, though it was intended as a swipe at Phil Jackson.
"Oh yeah, it was definitely a shot at him," James said Monday. "That's for sure."
James said Saturday after playing in Dallas that Smith should be a Knick. New York took Ntilikina with the No. 8 pick in the June draft, one spot before the Mavericks selected Smith.
James said he's known Smith since the former North Carolina State point guard was 13 or 14 years old and that they had trained together. He knows only a little about Ntilikina, a teenager from France who had played overseas with one of James' friends from Ohio.
Last offseason, Jackson had said the Knicks needed a point guard, either through the draft or free agency, and James figured they could do no better than taking Smith to play with Kristaps Porzingis. He compared his comments to his thoughts that the Cleveland Browns should have drafted quarterback Deshaun Watson with the No. 1 pick, saying that doesn't mean Myles Garrett won't become a top defensive player.
"Like I said, it's no shade at Frank. I don't even know the kid," James said at the Cavaliers' shootaround before their game against the Knicks.
"I wasn't even thinking about the kid when I was talking about Dennis Smith. I was thinking about the Knicks organization and Phil Jackson at the time and Dennis Smith's talent and Porzingis."
Jackson selected Ntilikina, but that was about the last thing he did as team president, as he and the organization parted ways at the end of June. He had angered James during his three years running the Knicks when he referred to James' friends and business partners as a "posse."
"I'm not a Phil Jackson fan, I think you guys already know that," James said. "That's the past. He's not even here anymore."