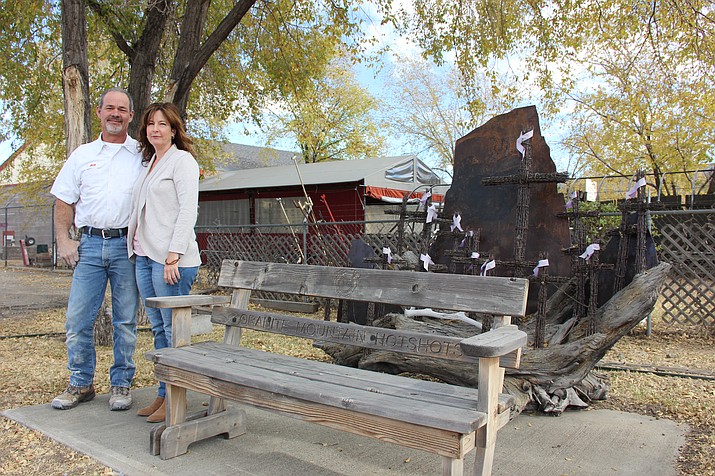 Photo by Max Efrein.
Originally Published: November 13, 2017 6 a.m.
Kim Gagnon and her husband Bill are the new owners of Station 7, the base for the Granite Mountain Hotshots.
On June 30, 2013, she heard from her oldest daughter.
"That was tough," she said. "My oldest daughter called me and said, 'Mom, did you hear the news?' And I said no, and she told me. I said that's got to be wrong, that was my first thought. Then she said, 'I think I went to school with some of those guys.' Like everyone else, you're in shock, you're just trying to listen to the news and see if it true."
Another shock came in the morning when she went to work on Sixth Street.
"We came into the shop and I did not realize it was those guys until I came into the parking lot and I saw something on the fence," Gagnon said. The Plumbing Store, the business she runs with her husband, is located next to Station 7. "We came in, all the employees came in, and we were in a daze.
"We knew these guys, not knew them, but they came into our shop and bought parts and we'd see them out in the back, as acquaintances. So, it was really hard. Like everybody else in this community, it was hard. I could actually not go over there. It took, before I could go over there without getting emotional, it took four weeks."
Every day the memorial at Station 7 grew and once she finally was able to go over and read what people left, she encouraged her husband to do so as well.
"No, I can't," Kim Gagnon quoted her husband as saying.
Bill Gagnon said that he wasn't smart enough to know what to say in that situation. Bill, I'm quite certain the smartest people on the planet don't know what to say in that situation.
The Gagnons have been building their small business for 24 years this month. They originally bought it from family and operated mostly as a supply store located in the Quonset hut on Miller Valley Road.
"It was a store, we built up the service, if he got two calls a week, it was a good week," Kim said. "We've gone from that to having a crew of guys."
When the recession hit in 2008, building came to a stop and the Gagnons had to change focus. They became more service-oriented, doing plumbing and installations and selling fewer and fewer parts. Now, the supply side of the business only accounts for about 5 percent of their profits.
About five years ago they moved to Sixth Street, right next to Station 7. Kim Gagnon said they've been looking to purchase their own land for the past seven years. When the City of Prescott put Station 7 up for sell, they jumped at the opportunity.
"That's the perfect place, let's put in an offer," Kim Gagnon said.
The Gagnons have talked to Amanda Marsh, wife of fallen Hotshot Eric Marsh, and have agreed to work with the families of the 19 to put some memorial on the property.
Currently, there is a Granite Mountain Hotshots bench in the back, next to the horseshoe pit where the guys played. They plan to keep the horseshoe pit, cleaning it up as a place their employees can play, just like the Hotshots did before them.
Behind the bench is a piece of artwork with 19 metal crosses. Most have pink ribbons on them, but since the gate has been open while they've been working on the building, some of the ribbons have disappeared.
"The city asked us if they could keep it there until they decide what to do with it. It's welcome to stay there for however long, or forever, if they want it," Kim said.
There is also a Granite Mountain Hotshots decal on the front door. Kim said there's no way of removing it without destroying it, so they plan on just leaving it there.
There have already been people stopping by to take photos and to gawk. Some have asked for tours of the building, which the Gagnons have had to decline because of liability concerns while work is taking place inside.
"If people want to come, I just hope they're mindful that I don't have time to show them all around the building when we're working and busy," Kim said. "They're welcome to come and take pictures of the outside and do whatever."
The Hotshots primary purpose was to protect lives and structures. Perhaps a small, family business thriving in their former home is fitting.
"We went in with the right intention and the right heart, and that is, for us, this is a 24-year achievement and a goal we have worked toward," Kim Gagnon said. "Perfect building, perfect location, it's the right thing to do for us."
Related Stories