Originally Published: November 13, 2017 9:03 p.m.
Updated as of Tuesday, November 14, 2017 12:24 AM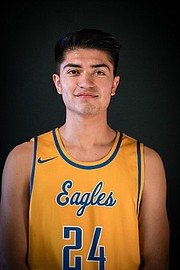 EDITOR'S NOTE: This story is updated from an earlier version.
Gilbert Ibarra scored 20 points on 8 of 17 shooting from the field in 22 minutes off the bench, Nick Johnson grabbed 14 rebounds and the Embry-Riddle men's basketball team pulled off the upset of the century with an 82-70 win over in-state rival Northern Arizona on Monday night.
It is the third straight win for the Eagles (4-1, 0-0 Cal-Pac), which shot 46.6 percent from the field, including nine 3-pointers, and knocked down 19 of 20 free throws to defeat the NCAA Division I Lumberjacks.
"Honestly, I think the best thing, we want to get these wins, but I think bringing a little notoriety to our university is important. … A lot of people don't realize we have a basketball program," Eagles head coach Eric Fundalewicz said in a phone interview Monday night.
Fundalewicz was a former assistant coach for NAU before taking the Embry-Riddle job in 2015, months before the inaugural 2015-16 season tipped off that November in Prescott.
"Confidence wise, this is huge for our team. We've played some good NAIA clubs leading up to this game, and it really prepared us," Fundalewicz said. "It gives us a ton of confidence moving forward."
The Eagles, a third-year NAIA program, trailed by as many as 15 midway through the first half, but kept chipping away.
Trailing 40-36 at halftime, Embry-Riddle used a 20-13 run to begin the second half capped by an Ibarra 3-pointer that gave the Eagles a 56-53 lead with 10:39 to go and they never trailed again.
Jaran Hoover, a former Lumberjack before transferring to Embry-Riddle two years ago, finished with 12 points on 3 of 7 shooting from the field and had two assists.
NAU (0-2, 0-0 Big Sky) shot a dismal 35.6 percent from the field (21 of 59), including a 5 for 21 mark from beyond the arc.
Chris Bowling led the Lumberjacks with 16 points on four 3-pointers.
Fundalewicz said the win hadn't fully hit him yet as he took a seat on the team's charter bus back to Prescott, and credited his student-athletes on a job well done.
"The funny thing is, they're all worried about getting back to campus to study," Fundalewicz joked. "They are the hardest working group of engineers, pilots and all of the above and that was huge for us tonight."
Brian M. Bergner Jr. is sports editor for The Daily Courier, the Prescott Valley Tribune and the Chino Valley Review. Follow him on Twitter at @SportsWriter52 or on Facebook at @SportsAboveTheFold. Email bbergner@prescottaz.com or call (928) 445-3333, ext. 1106.
More like this story