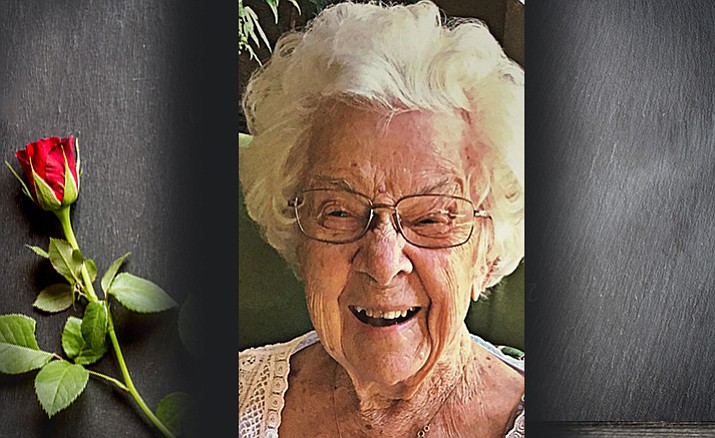 Originally Published: November 12, 2017 6:06 a.m.
Updated as of Monday, November 13, 2017 6:51 AM
Gwen Mackerras, 99, passed away on November 4, 2017. She was born on August 11, 1918, to Ed and Winifred Moore, in Little River, Kan. She is survived by her daughter, Laurie Tetreault (Don) and son, Scott (Laura). Her husband, Max, proceeded her in death in 1998.
She moved to Pasadena, Calif., in 1945 to live with her sister, Madaline, who was attending the Pasadena Playhouse. Through Madaline's husband she met her beloved Maxwell after he returned from military service during WWII. They married in 1946, had two children and built a close family.
Gwen had a fun and successful career as a children's librarian in Monrovia until her retirement in 1979. Her eight-foot Big Bird was the talk of the town. The children loved her and she was a consummate story teller. She and Max had a wonderful marriage, full of friends, dancing and laughter. They traveled all over the world with their close knit church group, the "Silly Six", during retirement. Their daughter, Laurie, married Don and had a son, Eric. Their son, Scott, married Laura and had two children, Sharon and Jim. "Mema" and "Pepa" loved being grandparents. Gwen's storytelling talent got continued use at birthday parties and bedtime. She created a love for books that has been passed down to all of her grandchildren and (now five) great-grandchildren, with another on the way. "Great Mema" has so enjoyed seeing another generation begin the journey she has now finished. She has had a life that many would envy and is now with the Lord and her beloved Max. "Well done, thy good and faithful servant"! Hampton Funeral Home was entrusted with the final arrangements.
Information, provided by survivors.
More like this story