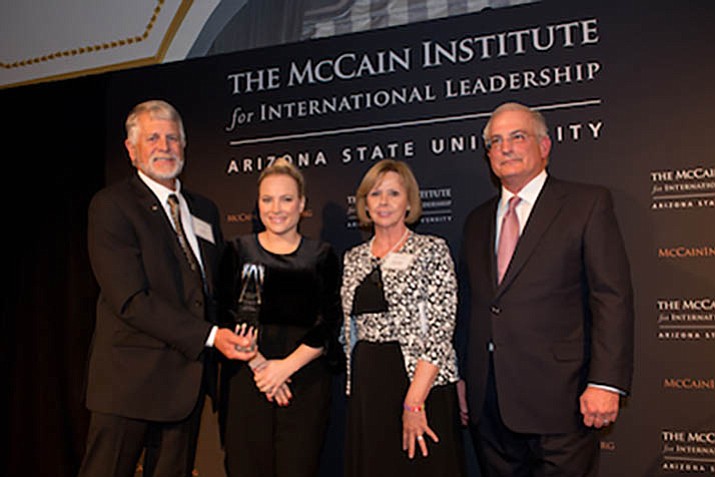 Originally Published: November 11, 2017 5:58 a.m.
Kayla Mueller was honored posthumously by the McCain Institute for International Leadership at Arizona State University with the Award for Courage and Leadership, which was accepted by her parents last night in New York City. Mueller, a humanitarian worker from Prescott, Ariz., spent her life dedicated to serving those in need; she was captured and held by ISIS until her reported death in 2015.
"Through her life, her work and her spirt, Kayla showed us all what it means to be generous, compassionate and, above all, to possess tremendous courage," said McCain Institute Executive Director Ambassador Kurt Volker. "For her service to communities in need and for her grace in enduring unspeakable trials, the McCain Institute is pleased to honor her legacy with the Award for Courage and Leadership."
The award was presented last night at an event in New York City held by Arizona State University Foundation for the benefit of the McCain Institute. The Award for Courage and Leadership is given each year to honor an individual or group who has stood unwaveringly for fundamental values and has inspired the world through acts of selfless courage. By recognizing this service to humankind, the McCain Institute hopes to nurture the courage in each of us to stand for what we know is right. The recipients are selected based on their acts of personal courage on behalf of human rights, humanitarian compassion, justice, freedom and human dignity.
"Kayla would be deeply humbled and honored by this award," said Carl and Marsha Mueller, her parents. "It is difficult for most of us to imagine summoning the courage, despite another day of torture, captivity and uncertainty; to be able to live into the belief that as a hostage one could retain the freedom to be principled and compassionate. Senator McCain and Kayla are kindred spirits in this respect. The kindness and support that Senator McCain and Mrs. McCain have given our family, their hearts for Kayla and their lifelong service to our country and to freedom around the world would make this honor all the more meaningful to Kayla, as it does to us. Our hope is that Kayla continues to inspire others to lead a bold and courageous life dedicated to freedom, justice and peace in the ways the McCain family, the McCain Institute and the past recipients of this distinguished award have inspired countless others."
Mueller worked first as a volunteer and then ultimately as an employee for various advocacy and humanitarian organizations engaged in relief work in some of the areas of greatest suffering in the world. While working for an NGO in Turkey supporting Syrian refugees in 2012, Mueller accompanied a group of fellow humanitarians to a Doctors Without Borders hospital in Aleppo. Upon their return, they were ambushed and taken hostage in August 2013 just days before her 25th birthday. Mueller, the only American, remained in custody and was held hostage by ISIS until her reported death in 2015.
Despite the torture, violence and unimaginable abuse, Mueller remained committed to living a life of courageous compassion. As her fellow hostages would later tell, Mueller stood up to executioner "Jihadi John" to defend her faith and principles with a steadiness and dignity that seemed unimaginable given the terror and torture they all had witnessed and endured.
From: The McCain Institute [mailto:communications=mccaininstitute.org@mail189.atl221.rsgsv.net] On Behalf Of The McCain Institute