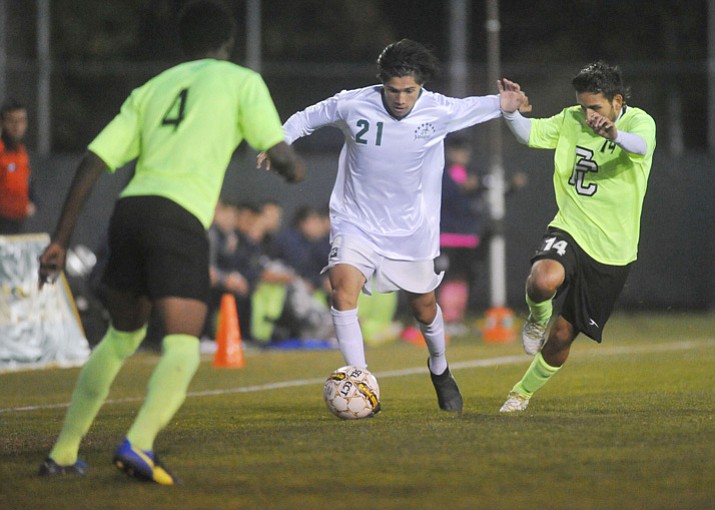 Originally Published: November 10, 2017 11:50 p.m.
EDITOR'S NOTE: This NJCAA National Tournament preview is part two of a four-part series featuring the Yavapai College men's soccer team. Look for parts three and four in the Sunday, Nov. 12, edition of The Daily Courier.
Yavapai College soccer defenders Ricardo Nunez-Arellano and Isaac Arellano have plenty in common, although not in the ways you might think.
They basically share the same last name. But they aren't blood-related.
They play back-line defender. But only one of them has been in that spot since high school.
They grew up in Las Vegas. But they competed for rival high schools.
It's no big deal, however. It's their on-field chemistry that's paid dividends this fall.
Sophomores Nunez-Arellano and Arellano form two of the four pieces on the 2017 Roughriders' tenacious back-row defense, along with sophomore John Kanner [pronounced CON-er] of Phoenix and freshman Andrew Rivera of Inglewood, California, who have bolstered Yavapai in qualifying for the 2017 NJCAA National Tournament in Prescott Valley.
"We've just got to be grateful, and take advantage of us being home for nationals," Isaac Arellano said at practice Wednesday. "I always talk to my defenders. We've just got to stay compacted. Just trust each other, always apply cover with each other."
For the seven-time national champions to capture an elusive eighth title on their field at Mountain Valley Park, the Roughriders need the quartet's talent, skill and hard work.
"It's come together, actually, quickly," 29th-year Yavapai coach Mike Pantalione said of his back line. "Most defenses thrive on years of playing together. But in junior college soccer we need a faster result. When you have good people and the cooperation of those players, it makes the transition go a lot easier."
During Yavapai's current nine-game winning streak, the Roughriders have outscored the opposition, 53-6, giving the nation's highest-scoring attack a shot in the arm. Nunez-Arellano credits Pantalione and associate coach Hugh Bell for molding the foursome.
"We came in here this season; we had our own set of skills. But it was them who put them together and gave us the keys to being successful," Nunez-Arellano said.
After the 2016 season, Yavapai didn't have a complete back-row defense, so it "had to find one," Bell said. Pantalione and Bell recruited four freshman defenders, including Rivera, Carlos Robles and Joel Vidrio from Phoenix, and Emiliano Cardona from New Mexico.
"Andrew's the biggest and the strongest, and he stepped up and filled that fourth defender to complement Ricky," Bell added.
NUNEZ-ARELLANO
Nunez-Arellano was a high-scoring attacker at Green Valley High School in North Las Vegas. Pantalione said he saw the "strength, power, determination and knowledge that he possessed" and wanted him on defense. Led by Nunez-Arellano down the stretch this fall, Yavapai dominated the strong attacks of Arizona Western, Phoenix, Pima and Snow College (Colorado).
Bell said he initially thought Nunez-Arellano would play center forward, but his ability to adapt to other positions benefited him. "I was thinking of Ricky as an attacker because of the goals he scored," Bell added. "So I was getting an attacker and a defender – two pieces of a puzzle that were so, so important." Nunez-Arellano also wants to lead.
"I like being vocal. I like being loud. I want the whole team to hear me if I've got something to say – give directions to the midfielders," Nunez-Arellano said. "But Andrew's in there, too. He opens up his mouth. They listen to him, too."
ARELLANO
Isaac lived near Ricardo in Las Vegas. Despite being former crosstown rivals, Ricardo and Isaac, who played at Western High School, get along well.
"We always knew each other in Vegas, so we were always friends," Isaac said. "Ricky was always a good player. I'm just happy to play with him."
Bell said Isaac possesses natural talent.
"His ability to go up and down that field was the first thing that impressed me as an outside back, because the modern game demands that player who can join the attack, and get back and play D," Bell added.
RIVERA
Rivera once played on a club team in southern California, but Bell spotted him at an invite in Las Vegas. The hard-working Rivera said Yavapai gave him his only offer out of high school, and he's wanted to prove himself.
"Ricky's helped me out since the beginning," Rivera said. "We learn off of each other's mistakes. It's been that way all season."
KANNER
The reserved Kanner seems easygoing. Put him on a soccer field, though, and his aggressiveness kicks in.
"We're very competitive," Kanner said of the back row. "We don't want to let them score."
Bell said he watched Kanner play 2-1/2 years ago for a Club team on a remote field in Chandler-Gilbert.
"He was so enthusiastic, and so physical and so determined," Bell said. "At his high school, he would go up for corner kicks and head goals from his center-back position. He would be running the show in the back.
"He was walking off the field with a friend and I said, 'Could I have a word?' " Bell recalled. "I said, 'I'd like you to consider coming to my school.' And he says, 'OK.' "
Bell told Kanner that he would move from center back to left back.
"And he says to me, 'OK, will you teach me?' " Bell recalled. "And I said, 'Of course I'll teach you. You'll be our left back.' And he's been our left back for two years."
Doug Cook is a sports reporter for The Daily Courier. Follow him on Twitter at @dougout_dc. Email dcook@prescottaz.com or call 928-445-3333, ext. 2039.