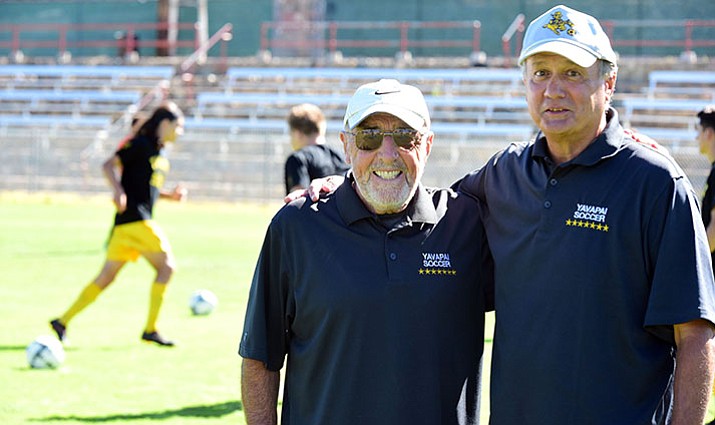 Photo by Les Stukenberg.

Originally Published: November 9, 2017 11:28 p.m.
Updated as of Friday, November 10, 2017 4:49 PM
EDITOR'S NOTE: This NJCAA National Tournament preview is part one of a four-part series featuring the Yavapai College men's soccer team. Look for part two in the Saturday, Nov. 11, edition of The Daily Courier.
As the autumn sun faded over Ken Lindley Field Nov. 4 in the late afternoon, 29-year Yavapai College soccer coach Mike Pantalione and associate coach Hugh Bell embraced near the home bench moments before the Roughriders clinched the 2017 NJCAA Division I West District championship.
Shaking hands and hugging briefly, the typically stoic Pantalione, 64, and Bell, 75, grinned from ear to ear.
Although you'd think the accomplishment had become all too common for Yavapai, which captured the program's 21st district title in 29 years with a victory over Pima College that day in Prescott, the win was special for at least three reasons.
First, the championship handed the Roughriders their record 21st all-time national tournament berth since 1990, including their first since 2013.
Secondly, it gave Yavapai — which has often traveled thousands of miles away from Arizona to win its seven national titles since 1990 — the chance to play in front of its loyal fans on its turf in Prescott Valley.
And, thirdly, it reaffirmed the strength of two veteran coaches who've proven that their old-school, tough-love approach still works in the 21st century.
"He's been with me for 26 of the 29 years of the program's existence, and we always, together, can reflect back and bring a historical view on things," Pantalione said from practice this week at Lindley. "And we can bring that experience and knowledge to the players in hopefully getting them prepared for such an event like this."
Three of the Roughriders' nationals trophies were won in Trenton, New Jersey (1990, 1992, 1997). Another three were claimed in Tyler, Texas (2002, 2003, 2007). And although they snared their most recent title in Phoenix in 2008, well… there really is no place like home.
Yavapai (21-2-3 overall record) will seek an unprecedented eighth national title in 29 seasons when the 12-team tournament is played for the second time in four years at Mountain Valley Park Amphitheater Nov. 13-18. The third-seeded Roughriders kick off the tourney against Waubonsee of Illinois (17-4-1) at 5 p.m. Monday, Nov. 13, in pool play.
Playing at home in nationals is a moment that Pantalione and Bell have been waiting for since 1992.
RICH HISTORY
Pantalione spent only the program's first three seasons, from 1989-1991, without Bell at his side. From 1992 to present, the cerebral duo has collaborated to put a small junior college program from Prescott on the soccer map. In 20 national tournament appearances, the Roughriders have won the title seven times and were runners-up on six occasions.
That's a major accomplishment, especially when you consider that you must win your region and district tournaments in a single-elimination format to qualify for nationals. Once at nationals, you have to win four straight matches, also in single elimination, to capture the trophy.
From 1990-2009, the Roughriders qualified for nationals 19 times, missing only once, in 1999. From 2010-2012 and from 2014-2016, the tables were turned when Yavapai failed to reach the grand stage, including the first time Prescott and Prescott Valley hosted nationals in 2014.
"If you're honest about the sport, even though you have success, the worm turns," Bell said. "And it occurs at every single level. I don't know any other way to explain that. Consistently we've been good. But maybe we haven't been good enough to get to that final spot. The team that we lost to has been a little better, or maybe a little more fortunate."
The 2010s have been an aberration, with the Roughriders going to nationals twice. Bell said he remains grateful.
"For me personally, you count the days — and every day you get up is a great day," added Bell, a spiritual person. "You begin to really value your health, your surroundings; the people you love, the people you care about. And, therefore, that's my team. My boys."
Bell and Pantalione recruit their players together. In 2016, they fielded a freshman-dominated team that they knew needed a season to develop. They just had to stay patient. Bell said he helped recruit "quality young men who would go to class and be good performers and good citizens." Those players formed a foundation for what Yavapai became in 2017, along with a group of mature freshmen.
"We put a lot of work in in the spring — it was good every single day, doing something constructive," Bell added.
Despite Yavapai's struggles reaching nationals in this decade, Pantalione views it with a glass-half-full approach. And no wonder. Since 1989, only two other programs, Mercer County (New Jersey) and DuPage (Illinois), have come close to the Roughriders' 21 appearances, compiling 16 and 14 qualifications, respectively.
"It's a positive reflection; how we qualified for that many tournaments and how fortunate we have been," Pantalione said. "People see how difficult it is. To make it to 13 national title games, we've been very, very fortunate. This year is no exception — to qualify for a tournament that we're hosting."
TURNING POINT
Not everything was hunky dory this fall.
On the evening of Oct. 5, Pantalione and Bell were concerned. The Roughriders had suffered their worst loss of the season, 5-0, at Phoenix College, and an ACCAC title hung in the balance with five matches left in the regular season.
After the setback in Phoenix, Pantalione told his players to line up on the touch-line together and soak in the moment. As the Bears and their rambunctious fans celebrated a big win over a ranked opponent on the field and in the stands, the Roughriders didn't argue with Pantalione. They simply stood there, contemplating the direction they wanted their season to take.
"Nobody said a word," an emotional Pantalione said. "Everyone stood [to watch] their celebration. We congratulated them. We didn't have to shake their hands, but we did.
"This is a good group of players that we have. Right then I felt like this team could get to nationals and it would work based on their response on the final whistle."
Pantalione's gut instinct was correct. Yavapai moved on to win its last five matches of the regular season, claim a share of the ACCAC crown, and win both the Region 1 and West District titles over conference rival Pima to make the national tournament.
This week, both Pantalione and Bell said they've received "a ton of emails" from past players and fans, among others, congratulating the coaches for leading the Roughriders back to nationals after a three-year absence.
On Nov. 13, Yavapai will play the program's 700th all-time match. Undoubtedly, all of those fond memories of nationals tournaments past in Trenton, Tyler and Phoenix will come flooding back into the coaches' heads under the warm northern Arizona sun on the natural-grass field at Mountain Valley Park.
Maybe, just maybe, the Roughriders will make even more great memories — this time, in Prescott Valley.
Doug Cook is a sports reporter for The Daily Courier. Follow him on Twitter at @dougout_dc. Email dcook@prescottaz.com or call 928-445-3333, ext. 2039.
More like this story