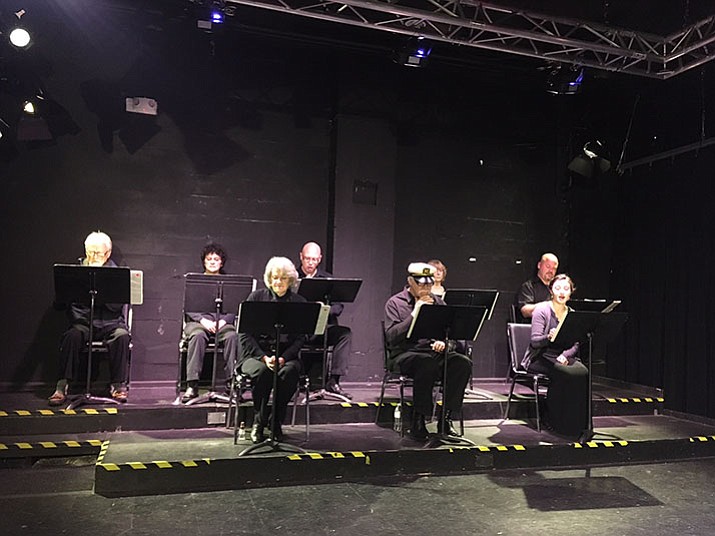 Originally Published: November 9, 2017 6 a.m.
Prescott Center for the Arts' Reader's Theatre presents, in this reviewer's opinion, some of the finest theater fare available in Prescott. It's a little ironic that such quality could result from a mere reading, sometimes formatted as a "staged reading" or "half-production." Maybe it has to do with distilling a play down to its purer essence without the complication of sets, props and costumes, essentially requiring the actors to project their characters' personae through dialogue alone.
Coming up this weekend, Reader's Theatre offers Dylan Thomas' "Under Milk Wood" a play that is actually intended to be read, not staged. Imagine an audio book presented live.
One of eight actors reads the part of the narrator, his narration comprised of what began as the famed Welsh playwright's "poetic prose." The text was later expanded to include the dialogue of some 40 characters, read by the other seven actors.
"Under Milk Wood" could be described as a day in the life of the rather off-beat residents of the fictional Welsh village of Llareggub (read it backwards). The day depicted is bookended by the often racy nighttime dreams of the cleverly named characters.
"Under Milk Wood" moves so fast from anecdote to anecdote that one could probably hear the play five or six times and still catch many nuances they had missed prior.
A male character recalls unrequited love. Another struggles mightily to withstand his existence with the wife he loathes.
A female character ponders past sexual exploits, but pines away for the deceased man she truly adored. A salty old sea captain copes with failing eyesight.
"Under Milk Wood" has been described as "a play of voices." I took the advice of director Parker Anderson and closed my eyes from time to time during the reading. Perhaps analogous to the heightened hearing of a blind person, with eyes closed the words, sounds, accents, expression all became more focused, more impactful.
Not knowing playwright Thomas' intent, it occurs to me that much of his characters' ample eccentricity manifests itself in exposing the audience to the villagers' deepest, darkest secrets as depicted in their dreams. Wouldn't we all seem a bit "fringe-y" if others knew our innermost thoughts?
The reading's outstanding cast includes Trudy Forbes, Edward Gates, Jonathan Gates, Adriana Hurtado, Layne Longfellow, Clint Nichols, Celia Osborne and Chris Redford. Using speech and song, these talented actors/readers make every possible distinction between the characters they present.
I will admit that "Under Milk Wood" might not be everyone's cup o' tea. But I found it intensely compelling ... one of those theater experiences that later had me looking online for more information, even other performances to view.
One thing is certain, "Under Milk Wood" is like no other theatrical production I have seen or heard before.
"Under Milk Wood" will appear on Stage Too, in the alley off Cortez St. between Willis and Sheldon (behind Peregrine Book Co.) in downtown Prescott, with performances at 7 p.m. on Nov. 9, 10 and 11. A donation of $5 is requested at the door for all performances.
For more information, visit the PCA website at pca-az.net or call 928-445-3286.