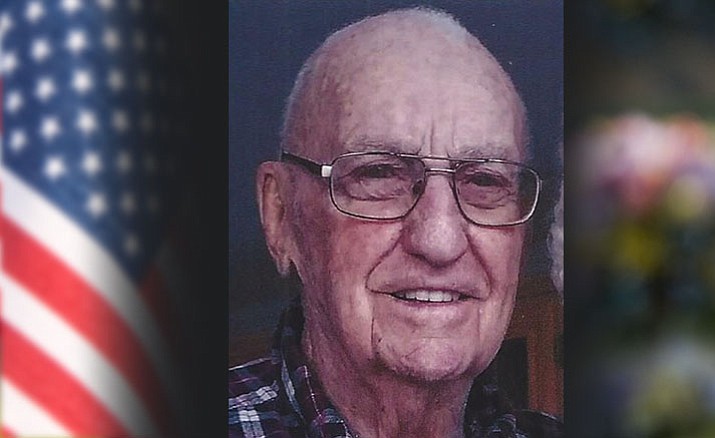 Originally Published: November 9, 2017 6:05 a.m.
Arthur Leroy Riggle, 95 years old entered into rest on Nov. 5 th, 2017. He was born in Ohio and moved to Phoenix in 1952.
He is the beloved husband of Donna Marie Riggle and father of son, Arthur E. Riggle, daughters; Sandra D. (Lyle) Borton and Karen S. (Paul) Slak and step-daughters; Robin (Bob) Sherman, Kelly (Tom) Mausling, and Terrey (Darin) Dryer. He has 11 grandchildren, 17 great-grandchildren and one great-great-grandchild.
He is preceded in death by wife Donna Rae Riggle, father, Ira Riggle, mother, Anna Riggle, sister, Helen Harkleroad and daughter, Bonita Rae Arzaga. Arthur served in WWII, in the United States Navy as a Chief Gunners Mate on the Destroyer Escort, USS Walter S. Brown. He retired from the US Post Office and was a Pastor of various Christian Churches in Arizona.
A visitation will be held for Arthur on Friday, November 10th, 2017 from 1 p.m. – 3 p.m. with funeral services to begin at 3 pm at Ruffner Wakelin Prescott Chapel, 303 So. Cortez St. in Prescott.
In Lieu of flowers the family requests memorials in Arthur's name be sent to Good Samaritan Hospice Society, 1065 Ruth St, Prescott, AZ 86301
Funeral Arrangements entrusted to Ruffner Wakelin Funeral Homes.
Please log on to www.ruffnerwakelin.com to sign Arthur's guestbook and share a memory with the family.

Information provided by survivors.