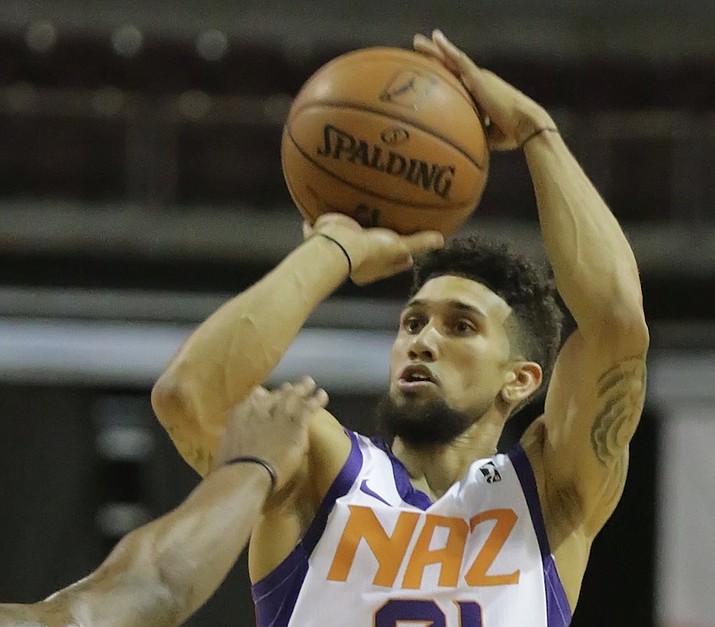 Originally Published: November 9, 2017 10:35 p.m.
Updated as of Friday, November 10, 2017 4 PM
Askia Booker scored 36 points on 11 of 17 shooting from the field, including six 3-pointers, Xavier Silas added 33 points and the Northern Arizona Suns survived a pesky Iowa Wolves squad in a 141-140 victory Thursday night.
It is the first win of the season for the Suns, which finished one-point shy of a club record 142 points in a single game set Nov. 12, 2016, in a double overtime loss to the South Bay Lakers last season.
Northern Arizona's (1-1) regulation franchise high was previously 130 points set Dec. 3, 2016, against the Reno Bighorns.
"We're dedicated to playing a certain way, through the good and the bad," first-year Suns head coach Cody Toppert said, pointing out his club's 28 turnovers against the Wolves at the Prescott Valley Event Center on Thursday night.
"We're going to have our growing pains … if we value a few more positions we've got 160 points on the board," Toppert said. "If we tighten up a little bit at the end of shot clocks and do away with needless fouls, we're in a position to make this a more comfortable situation and a win."
The Suns had 31 total fouls, sending Iowa (1-2) to the free-throw line 41 times as they converted 33. Northern Arizona was 37 of 43 from the charity stripe.
Tied 103-103 heading into the fourth quarter, Northern Arizona used a 9-0 run to begin the final period, capped by Alec Peters' running layup after cutting to the basket off an assist by Anthony Bennett.
The bucket gave the Suns a 112-103 lead with 10:16 left in the game and the Northern Arizona never trailed again.
"I was proud of the guys, we could have folded in the end when Melo Trimble got going, but really the defense is what sustained," Toppert said.
Trimble, a former Maryland standout, finished with a game-high 37 points on 10 of 22 shooting from the field, including a 14 of 15 mark from the free-throw line, and eight assists.
Peters finished with his first professional double-double for the Suns, scoring 16 points and grabbing 10 rebounds in 28 minutes before fouling out.
The former Valparaiso standout said the Suns were "lucky" they held on for a win.
"There are a lot of things we need to get better at. We can't allow teams to put up 140 points in a game, I guess we're just lucky we outscored them," Peters said.
Iowa head coach Scott Roth wasn't too pleased with his club, either.
"At the end of the day, this is not the style of basketball we play. It's the style they play," Roth said about the Suns. "We had numerous errors and shot ourselves in the foot continuously the whole game … just bonehead play after bonehead play."
The Suns had six players in double figures Thursday night, including Josh Gray, who scored 20 points in 28 minutes off the bench, something Toppert was proud of.
"What kind of a person, though, has 28 points in one game and I ask him to go to the bench, and comes off and closes the game, has another 20 point outing," Toppert said. "That speaks volumes on Josh."
Toppert added the Booker-Gray combination will likely be a "deadly duo" moving forward.
"I'm very excited to see where we go as we continue to mesh and learn," Toppert said.
FAMILIAR FACES
Former Suns guards Elijah Millsap and Michael Bryson returned to Prescott Valley for the first time since they were dealt in a trade to Iowa for the No. 1 overall pick in the 2017 NBA G League Draft.
Northern Arizona selected Eric Stuteville with that pick. Millsap finished with 24 points in the loss.
UP NEXT
Northern Arizona wraps up its three-game homestand to begin the 2017-18 season against this very same Wolves club Saturday. Tipoff is scheduled for 7 p.m.
Brian M. Bergner Jr. is sports editor for The Daily Courier, the Prescott Valley Tribune and the Chino Valley Review. Follow him on Twitter at @SportsWriter52 or on Facebook at @SportsAboveTheFold. Email bbergner@prescottaz.com or call (928) 445-3333, ext. 1106.
More like this story