Originally Published: November 9, 2017 5:55 a.m.
PAAR collecting coats, warm clothing for kids
The cold is finally arriving and it's time to think about those kids small and large — think children, adults and veterans — who may be without warm coats this winter.

The Prescott Area Association of Realtors is once again sponsoring Don Shaffer's Coats for Kids drive. Collections are ongoing through Monday, Dec. 4, and may be extended a week.
The drive, started by Don Shaffer a number of years ago, was his passion. Don, a local Realtor with a big heart who cared about his community, passed away in 2016 and the program is now so named to honor his contributions to our community.

All types and sizes of coats are accepted. Also accepted are sweaters and sweatshirt jackets, winter hats, gloves & scarves. Items can be new or gently used, as long as they're clean.
After it's collected, clothing is distributed to various charity agencies: Stepping Stones, Prescott Area Shelter Services (PASS), Coalition for Compassion and Justice, a veterans agency and "Trift" Store as appropriate.

Collection boxes, donated by APS, are available at Prescott area schools, True Value Hardware, Adult Center, Starbucks at Frontier Village, and at many local Real Estate offices.

Folks may also make cash donations for the purchase of hats, gloves, scarves and smaller coats that may not get donated. Checks are to be made out to Prescott Area Association of Realtors (PAAR) and dropped off with your favorite Realtor or at the PAAR office, 3719 Karicio Lane behind Costco.
Information from Prescott Area Association of Realtors, A.J. Sheridan, local Realtor and coordinator for the Don Shaffer Coats for Kids Drive.
Prescott Farmers Market winter season starts Saturday
The Prescott Farmers Market will welcome customers for its fourth winter season on Saturday, Nov. 11. This year's Prescott winter market will be held at Yavapai Regional Medical Center's Pendleton Center at 930 Division St. The opening bell will ring at 10 a.m. and vendors will sell until 1 p.m.
PFM will be open every Saturday morning through April, except Dec. 23. The Prescott Valley Farmers Market will also be open this winter every Tuesday (except Dec. 26) from 10 a.m. to 1 p.m. in the Harkins Theatres parking lot, at the corner of Glassford Hill and Park Ave.
During opening week at the market, customers can find a variety of fresh vegetables, fruits, flowers, baked goods, eggs, nuts, grass-fed beef, pork and poultry. Local farmers grow a variety of cold-hardy vegetables, including leeks, potatoes, beets, radishes, carrots, salad mix, parsnips, spinach and kale.
Thanksgiving raffle tickets will be on sale Nov. 11, Nov. 14 and Nov. 18. Tickets are $5 each. The winner of dinner for four people, including a heritage turkey and all the fixings, will be drawn at noon on Nov. 18. Santa and Mrs. Claus will be at the market on Saturday, Dec. 9. Take a selfie with Santa for $5. PFM staff will take professional photos for your family for $10 each.
Customers can swipe their SNAP/EBT, debit or credit cards to receive tokens at the information booth. The Double Up Food Bucks Arizona program allows customers to double their SNAP benefits at the market, up to $20 per market visit. All vendors accept cash.
For more information, visit www.prescottfarmersmarket.org or call 928-713-1227.
Doggie Fashion Show Fundraiser is Nov. 12
The staff and volunteers of Circle L Ranch Animal Rescue & Sanctuary would like to invite the public to Circle L's "Doggie Fashion Show" fundraiser from noon to 2 p.m. Sunday, Nov. 12, at The Barley Hound Gastropub, 234 S. Cortez St. in Prescott.
Come for fun, and if your well-behaved, social dog would like to strut his stuff and compete for prizes, all the better. First-place prize is $100.
There will be food, a silent auction and raffles to please everyone. The $20 registration fee includes chili (regular or vegan) and a glass of wine, Arizona craft beer or beverage.
All proceeds will benefit the rescue dogs of Circle L Ranch.

Questions? Email lavinskyezra@yahoo.com.
Information from Circle L.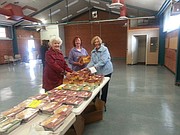 PEO sells Honey Baked hams, turkeys for the holidays
PEO Chapter DX is taking orders for Honey Baked brand hams other products, including whole fully cooked turkeys, turkey breasts, side dishes, soup mixes, gourmet desserts, and gift certificates to be delivered to Prescott Monday, Nov. 20. The last day to order is Friday, Nov. 17.

PEO is a Philanthropic Educational Organization where women celebrate the advancement of education for women; educate women through scholarships, grants, awards, loans, and stewardship of Cottey College, and motivate women to achieve their highest aspirations.
Today, Arizona has 149 chapters and nearly 6,000 members. There are 12 chapters in the Prescott area. These local chapters have awarded financial support to many local women in pursuit of furthering their education.
Honey Baked Ham Company will donate 15 percent of each purchase to P.E.O. Chapter DX for those projects.
For more information, call Pat at 928-499-8936 or Kathy at 928-771-0903.
Information from PEO Chapter DX.