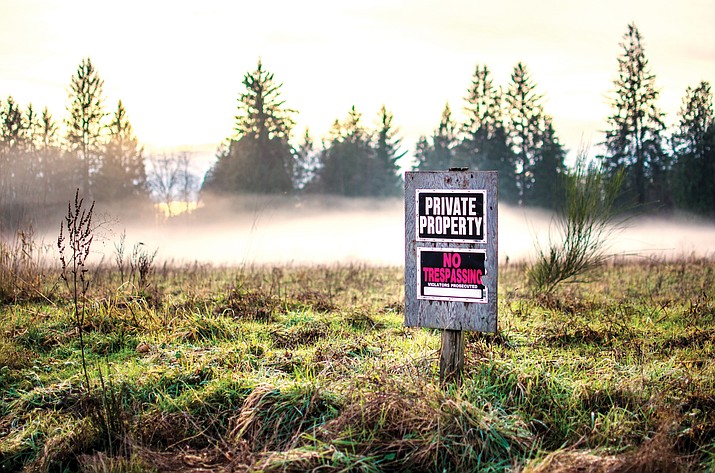 Originally Published: November 7, 2017 6:02 a.m.
Arizona Game and Fish officials were patrolling just north of Prescott when they noticed a hunter dragging a dead elk to his car on land they knew was private property.
They stopped and asked the hunter if he had gotten permission to hunt there and he responded that he didn't need permission because it was state land.
Unfortunately for the hunter, he was leaning against a post as he said this that clearly stated "Private Property. Las Vegas Ranch. No Hunting. No Trespassing."
"Because he had taken the game illegally, they took the game, they took his gun and he had to appear before them," said Steve Pierce, former Arizona Senator and longtime owner of Las Vegas Ranch.
That was about five years ago and the last instance Pierce recalls of someone hunting on his land without express permission from him.
"We used to have a lot of [trespassing], but we don't have much problem with it anymore," he said.
From what he has seen, Arizona Game and Fish has a much better grip on the issue.
"They manage it a lot better than they used to," Pierce said.
Nonetheless, to help protect his open land from unsolicited visits, Pierce makes sure to post plenty of signage.
"We always felt like if you have a sign within the sight of the next sign, then you're well posted," Pierce said.
This is not required to protect one's property from basic trespassing, but it is if one wishes to give AZ Game and Fish the legal authority to take action when unsolicited hunting, fishing or trapping is involved.
The specifics to these heightened posting standards are outlined in Arizona Revised Statute (ARS) §17-304.
PROTECTING YOUR HOME
Unless your home borders state land, you likely won't encounter a hunter or angler wandering through your back yard.
You may, however, get the occasional run-of-the-mill trespasser.
As previously stated, posting private property signage is not required by law. However, it's not necessarily a bad idea, especially if trespassing is a frequent issue, said Yavapai County Sheriff's Office deputy Scott Reed.
"Clearly posted signs can certainly help in the prosecution of a suspect for trespassing," Reed said.

One question that regularly arises about trespassing rules is whether or not they also apply to the same degree for religious proselytizers, delivery people or solicitors. In general, leniency is given to these groups, Reed said.
"These do not usually reach the level of a trespassing violation, but could if they fail to leave after a legal warning from law enforcement or a person with lawful control of a home," he said.
This can vary from municipality to municipality depending on if any local ordinances have been established.
Prescott, for instance, has an ordinance that specifically addresses the distribution of handbills – small printed advertisements or other notices distributed by hand.
IT STATES
…No person shall throw, deposit or distribute any commercial or noncommercial handbill upon any private premises, if requested by anyone thereon not to do so, or if there is placed on said premises in a conspicuous position near the entrance thereof, a sign bearing the words: "No Trespassing," "No Peddlers or Agents," "No Advertisement," or any similar notice, indicating in any manner that the occupants of said premises do not desire to be molested or have their right of privacy disturbed, or to have any such handbills left upon such premises.
USE OF FORCE
Someone in lawful possession or control of a premises is justified in threatening to use physical or deadly force against a trespasser if a "reasonable person" would find it necessary to do so in the situation, according to ARS 14-407.
Following through with that threat is another matter.
"Such force may only be used to protect your life and the life of others," Reed said.
It is not, however, justified to protect a piece of property, he said.
As a simple word of advice, Yavapai County Sheriff's Office does encourage people to become educated about protecting themselves and their properties.
"We want citizens to prepare and to have a plan in mind," Reed said. "Most police agencies offer free security inspections of businesses and homes. Other options available to citizens are firearm safety classes and personal self-defense instruction."
Prescott Valley Police Department spokesman Jason Kaufman confirmed that PVPD does offer security inspections for homes and businesses upon request.
Prescott Police Department dispatchers said PPD does not offer such a service, but does offer property watches for when people go on vacation.
More like this story