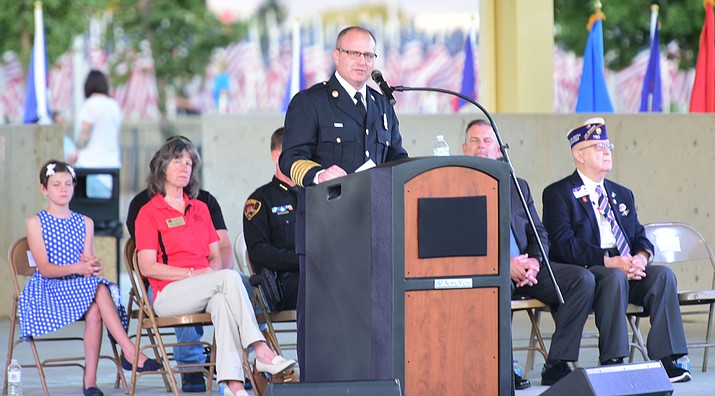 Photo by Les Stukenberg.

Originally Published: November 6, 2017 6 a.m.
Things have returned to some degree of normalcy for the Central Yavapai Fire District board now that a six-month internal conflict has come to a definitive close.
On March 14, Central Arizona Fire and Medical Authority (CAFMA) Chief Scott Freitag lodged a written complaint against ViciLee Jacobs, a member of the CYFD board, claiming she had made "unsubstantiated accusations" against him and his command staff, some of which he warned were potentially defamatory.
According to his letter, these included:
Accusing Freitag of illegal activity "relating to property acquisitions;"
Accusing the CAFMA command staff of mismanaging funds:
Complaining in meetings and to the board's attorney that "something inappropriate" is occurring with funds;
And making multiple accusations against Assistant Chief David Tharp in relation to several matters, including improper procedural and document filings.
Previous investigations into these matters had already deemed them to be unfounded, according to CYFD board's attorney, Nicolas Cornelius.
No matter, what ensued following the complaint was an extensive legal correspondence between Freitag, Freitag's attorney, Jacobs, Jacobs' attorney and Cornelius.
At one point, additional statements made by Jacobs during the resolution process resulted in a formal investigation by Cornelius. The statements implied that Freitag may have improperly coerced or influenced Fire Captain Eric Merrill to generate a written statement in support of Freitag's original complaint and or the addendum that later followed.
The investigation concluded that no such coercion took place and that neither Merrill's recent promotion nor Freitag's reputation should be tainted by the suggestion, according to letters addressed to the board's chairwoman and Jacobs, which were obtained by The Daily Courier through a public records request.
Since Jacobs did not provide any additional information or documentation in favor of her allegations, the board officially considered the matter closed as of its September 25 meeting, Cornelius said.
In his letter to Jacobs, Cornelius also warned Jacobs not to loosely make such serious allegations in public without substantive proof.
"Finally, while it is apparent that you may not have realized it, several of your allegations stated or implied criminal misconduct," Cornelius wrote. "Therefore you are admonished to exercise discretion when making such allegations as they may act to take you out of the protections afforded to you as an elected official."
Freitag did not wish to comment for this article, stating "I believe the letters speak for themselves."

Jacobs did not respond to emails requesting comment for this article. Her term on the CYFD board expires in November 2020.
More like this story