Originally Published: November 6, 2017 5:58 a.m.
PHOENIX — Authorities say a mountain biker rider is dead after collapsing on South Mountain Park trail in Phoenix.
The name of the 43-year-old man wasn't immediately released Sunday.
Phoenix and Tempe fire crews responded to calls about a biker collapsing on the trail.
Bystanders and other bike riders in the area performed CPR on the man until fire crews arrived, but authorities say he died.
Phoenix police are investigating the death.
Jury awards $12M for alleged hospital error
TUCSON — A jury has awarded $12 million to a Tucson woman who was severely incapacitated by an alleged hospital medical error.
Pima County Superior Court jurors ruled in favor of Esmeralda Tripp and against the University of Arizona Health Network, now Banner-University Medical Center Tucson.
Lawyers for the hospital told the Arizona Daily Star that an appeal of the verdict is likely.
The 46-year-old Tripp is a mother of four and grandmother of seven. Her lawyer says she now is in a persistent vegetative state.
Lawyers for the hospital and other defendants had argued that Tripp didn't provide accurate information about her medical history when she went to the emergency room with pain and thin blood in September 2013.
They also say they acted appropriately based on the available information.
1 seriously injured in fiery car crash in Gilbert
GILBERT — Authorities say one person has been seriously injured after a fiery car crash in Gilbert.
Officials with the Gilbert Fire Department say two cars sustained heavy damage in Sunday morning's crash near Recker and Guadalupe roads and one vehicle caught fire.
The name and age of the person taken from the scene to a trauma hospital weren't immediately released.
Crews responded to the crash around 9 a.m.
Authorities say two children were treated at the scene but didn't need to be taken to hospitals.
Northland Prep ends Hopi High's streak of 27 straight titles
CAVE CREEK — The Hopi High School boys cross country team's streak of 27 consecutive state titles has come to an end.
Northland Preparatory Academy of Flagstaff claimed the state Division IV team championship Saturday at the Cave Creek Golf Course.
Battling for position in the last half-mile as runners from both teams went shoulder-to-shoulder, three Northland Spartans finished in the top 10 while the Hopi Bruins also placed three in the top 10.
Brandon Bounds had a fourth-place finish in 17:01 to lead Northland while fellow sophomore Hayden Andersen finished eighth in 17:09.
Funeral held for Glendale teacher who was a homicide victim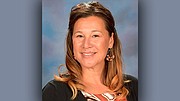 PHOENIX — A funeral has been held in Phoenix for a Glendale teacher more than a month after her body was found in Yavapai County.
Authorities say Cathryn Gorospe was a homicide victim.
Phoenix TV station reports green balloons marked the path to the Dream City Church chapel where the funeral service was held Saturday.
Green was Gorospe's favorite color.
The 44-year-old Gorospe went missing on Oct. 6 after posting bond for 27-year-old Charlie Malzahn, a man she had dated for about a month.
Authorities say Malzahn was seen driving Gorospe's blood-stained SUV on Oct. 9 in Phoenix and arrested after fleeing from law enforcement.
He remains jailed in Phoenix on charges unrelated to Gorospe's death.
Police: Off-duty Phoenix officer kills man after stabbings
PHOENIX — Phoenix police say an off-duty officer shot and killed a man Saturday afternoon after the suspect stabbed a bus driver and one passenger and tried to steal vehicles to get away.
KPNX-TV reports the off-duty sergeant who was driving his personal vehicle behind the bus saw what was happening and shot the man, who ignored his commands to surrender. It's unclear how many times the suspect was shot, but he died at the scene.
Police spokesman Sgt. Vince Lewis said the assailant was armed with two large knives.
The incident closed Cactus Road near Interstate 17 for hours as police investigated. Both stabbing victims are expected to recover.
The officer will be on paid administrative leave while an internal investigation is conducted.