Originally Published: November 5, 2017 6:03 a.m.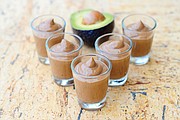 Chocolate avocado mousse:
Two avocados
½ cup raw cocoa or cacao powder
Two to three teaspoons of xylitol (sweetener)
½ cup coconut or almond milk
1 teaspoon liqueur: raspberry, mint or other flavor (optional)
Peel and chop avocados and then add to blender or use a hand mixer and bowl. Blend until smooth, then add the cocoa or cacao powder, sweetener, and milk. Blend until smooth. Add the liqueur and chill for at least two hours. For a festive touch, top with fresh raspberries, chopped nuts or shredded coconut.
Sore muscle salve:
½ cup coconut oil
½ cup apricot kernel oil
5 drops each of these essential oils: ginger, thyme, cypress, marjoram and rosemary.
Blend both the oils together with the essential oils until smooth. Chill in the refrigerator for about an hour.
Carol Stanley's secret to aging: she simply refuses to do so.
The "past 65" senior citizen is a fast-talking, quick-moving artist, writer, astrologer and health-conscious cook fond of brisk walks, yoga, meditation, bike rides, and competitive poker games. She and her husband, Jim, are devotees of brain teaser games.
"We're always looking forward to doing something new. We still have a lot of fun. We never say never," said Stanley, a one-time television astrologer and entertainer who has two adult sons, four grandchildren and one 13-year-old cat, Elwood.
Stanley jokes that her husband could wallpaper their Quailwood home with "all my business cards."
Her home is decorated with many of her abstract and realistic paintings, and she has an assortment of hand-painted tote bags and wine bottle holders she has sold in galleries and at art events. She and her husband are travelers, and there are plenty of photographs arranged around the living room. Their book shelfs are full of every imaginable read.
Her kitchen, however, is a bow to her true passion. The refrigerator is full of farm fresh produce and her pantry free of virtually anything process. She is a fan of essential oils, vitamins and minerals and natural herbs and spices.
Stanley's latest project is a self-published book she started writing last March and completed in September titled, "Feel Better Every Day – Natural Keys to Healthy Aging." The paperback book sells on Amazon for $10.95.
"I just see people getting old, and that makes me sad," said Stanley, an early riser who refuses to waste a moment of her day that always incorporates exercise, mind stimulation and inventing tasty recipes stuffed with nutritious ingredients. She is currently working to become a Reiki master. "We can't control when we die, but while I'm here on this Earth I want to feel good. And I feel good 99 percent of the time."
The author of three prior books, including one on the gift basket business that she was in for 20 years, Stanley's latest writing endeavor is rooted in her own edible and body care recipes – she has tried every one and in the near future hopes to perfect a new one for her own brand of laundry detergent. The book is a personal manual of practical tips mixed with bits of Stanley's wit and wisdom woven through the pages.
"Loved it! Simple as that!" said one reader Nell Rose. "So useful, and something to read at bedtime. It covers everything from herbs, vitamins, and healthy eating."
Rose notes that she has long struggled with insomnia, and Stanley offered ways to sleep she found actually work.
"Amazing! Look forward to the next book," Rose said.
Another reader, Rebecca Bardelli, said she appreciates all the research Stanley did so that she could recommend with authority the most natural ways to live one's life.
Stanley's book offers suggestions on how to lower blood pressure, how to eat out at restaurants, and how to control weight without fad diets.
"It's a great read that's perfect for anyone who wants to eat less chemicals and absorb less chemicals through the skin," Bardelli said.
While her past books revolved around her business and astrology experiences, Stanley is clear this one is much more personal because it comes from her own life walk.
"We actually live it," she said.
Stanley is clear in her book that she has no medical background nor is she a dietitian. As the years have gone by, though, Stanley said she has researched and gleaned how to have energy that belies her years. Her husband found healing for his macular degeneration.
Stanley is a regular contributor to a blog for those over sixty, and maintains her own website - that offers health and exercise tips.
At this time, Stanley said she is working to market the book to target audiences, with hopes that she may do some local book signings and talks at area senior centers.
"I don't want to lecture people, but I want to be their cheerleader," Stanley said.