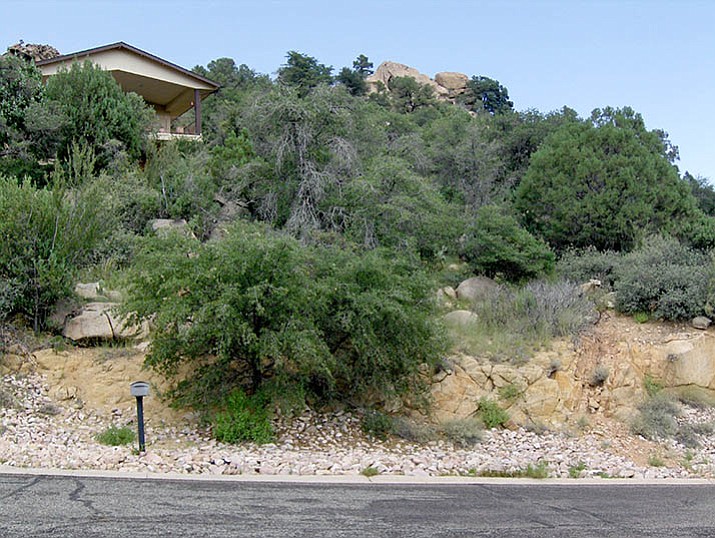 Originally Published: November 5, 2017 6:02 a.m.
5 steps to achieve Firewise USA recognition
• Obtain a wildfire risk assessment as a written document from your state forestry agency or fire department.
• Form a board or committee, and create an action plan based on the assessment.
• Conduct a Firewise Day event.
• Invest a minimum of $2 per capita in local Firewise actions for the year.
• Submit an application to your state Firewise liaison.
Northern California lost 7,500 structures to catastrophic fires this summer. If you think it can't happen in Prescott, you're dead wrong, said Ben De Blois, forester with Prescott National Forest.
That's why more and more people are taking steps to "firewise" their properties. Residents in the Blue Hills area of Dewey-Humboldt jumped on board after the Goodwin Fire in June and July came a little too close for comfort.
Previous informational meetings on how to set up a Firewise Community drew few people, said Victoria Wendt, D-H council member and community organizer. "All of a sudden, all kinds of people were attending the meetings," she said at the Nov. 2 meeting of the Prescott Area Wildland Urban Interface Commission.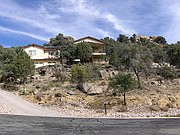 Residents, the town, Central Arizona Fire and Medical
Authority, and Prescott National Forest officials are working together to assess properties and conduct needed studies on forest land prior to mitigation efforts and to create a secondary emergency roadway.
In addition, one property owner in the Blue Hills has granted a right-of-way to two parcels and a working well donated by the late Paul Manganella to CAFMA. The community is fundraising to put a water tank on the parcel for use by firefighters if needed, Wendt said.
Wildfire season is never really over, said Denny Foulk, Yavapai County Emergency Management coordinator. This recent long spell of dry weather means the potential is still evident.
So how do individuals go about safeguarding their homes and property from fire — as much as that is possible in the Prescott Basin, much of which is surrounded by national forest or state lands?
Getting started
Debbie Wilson lives in the Pine Lakes subdivision off Iron Springs Road, which backs up to Prescott National Forest. Nearby Kingswood achieved Firewise status in 2010. Wilson said her neighbors are just beginning to learn about how to conduct an assessment on properties.
In fact, 32 people have filled the two-day class that finished this past weekend, said Jerry Borgelt, former PAWUIC chair. This class teaches Firewise and community members how to determine what a property needs for mitigation.
"We look at the structure first. Does the chimney have a spark arrester? Are the eaves and gutters cleaned out? Then we look at the space close to the home. You want there to be air between the structure and plant growth," Borgelt said.
An assessor meets with the homeowner to make a plan that widens to about 30 feet surrounding the house. They may flag some trees to clean up lower branches or thin crowns. They make a chart on where underbrush needs thinning or removal.
Dewey-Humboldt Firewise Board hosts a Thanksgiving Ice Cream and Root Beer Social for emergency responders and community at 6:30 p.m. Wednesday, Nov. 15, at the Town Hall, 2735 S. Highway 69, Suite 12. Free ice cream and free answers to wildfire management questions.
The property will not be barren or look like a "moonscape" when work is completed, he added.
They also look for ingress and egress — what exits does the property owner have available should there be a need to evacuate? Is the driveway big enough for a firetruck? How does this property fit with other nearby properties?
They look at the lay of the land to determine the likely directions a fire may approach the house.
It takes a lot of work, but it also brings neighbors together. And once other homeowners see what can be done, they are motivated to firewise their own property.
Juniper Heights
Juniper Heights/Old Senator Highway neighborhoods received their Firewise Community designation and signage at the Nov. 2 PAWUIC meeting.
The first meeting of residents took place in January this year, and interest spread like, well, wildfire. Meghan Taylor-Gebler and her husband, Douglas, said they attended a Wildfire Expo and spotted their area on a map, as it was targeted for possible mitigation work.
It was the map that put things in perspective; it hit her like a brick, she said.
"I talked to Bob Betts (former PAWUIC chair) and he said to go around to my neighbors to see if there was interest. There was," she said.
Taylor-Gebler formed a committee, went door to door and posted flyers. One reason they achieved their certification so quickly was because they also asked for street leaders, which broke larger neighborhoods into smaller "turfs." They attended PAWUIC meetings and were assigned a "point person" — Steve Lombardo, formerly with Crown King Fire.
"That was extremely critical," she said. They completed the five goals to becoming a Firewise Community, submitted their application in September and were approved Oct. 4.
While the Taylor-Geblers are doing the work on their acreage themselves, others have hired companies. It's a long-term education and easy to get overwhelmed. When they schedule a chipping day, they also choose a neighbor who is unable to do the work, and everyone puts in a couple hours of work on that property. They also provide lunch to the chipper crew.
"Every person contributes. It's important to have that kind of group effort. Everyone takes a task and it's very positive," she said.
Eleven people serve on the committee and five are street leaders. They meet once a month at the Prescott Public Library. Taylor-Gebler said about one-third of the homes and vacant properties have been mitigated.