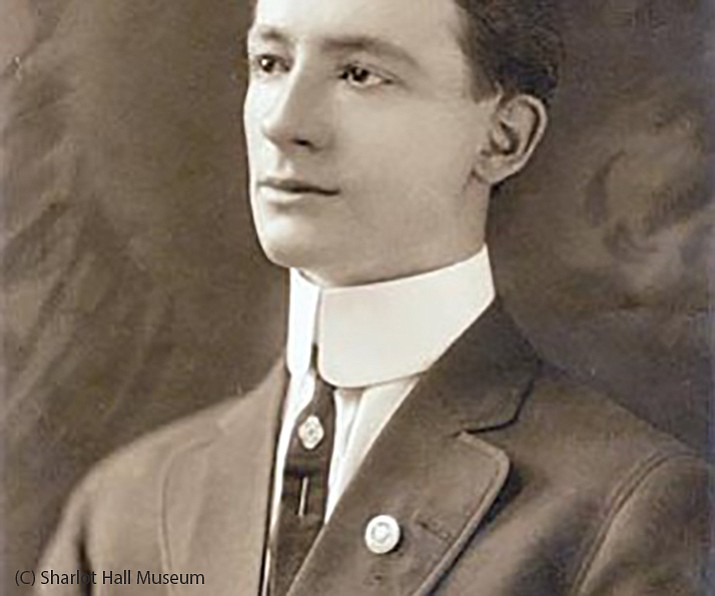 Originally Published: November 5, 2017 6:02 a.m.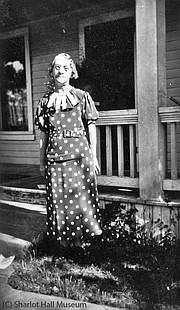 Editor's Note — This was originally published Nov 6, 2010; based on articles by Dr. Ted Finkelston, condensed and edited by Kathy Krause.
World War I was raging in Europe when the Selective Service Act of 1917 required all men 21 to 30 years of age to register for the "Draft." In 1918, it was expanded to all men 18 to 45. Local draft boards were appointed throughout the U. S. and the eligible men registered at their voting precincts and received numbered draft cards. A lottery conducted in Washington D.C. periodically determined the men chosen from each locality for induction into the U.S. Army.
On the morning of April 27, 1918, the registered young men of Prescott were summoned to the Plaza to hear the winners of "the lottery." Forty-seven were chosen that day. Among the new draftees was 23-year-old, red-headed, freckle-faced Jacob Theobald, the eldest child of John and Phoebe Theobald, who owned the OK Cash Market on Cortez Street.
Jake grew up in Prescott, graduating from Prescott High School where he had participated in sports. He became an apprentice printer and worked at the Prescott Courier. He was also a volunteer fireman and leader of a motorcycle club. He was a well thought of, hard-working young man with a promising future.
Jake was a prolific letter writer and wrote his mother regularly. Though short and to the point, his letters seem to have been written to reassure his mother. He wanted to give her some understanding of what he was going through. Jake provides her (and us) with an inside view of the life of a common soldier during World War I and the concerns and values of a young man of that situation.
In his letters, Jake begins by telling about his experiences on the train trip to Fort Riley, his induction process including vaccinations and issuing of clothing. In late May, Jake wrote his mother a postcard from St. Louis; "Don't know where I'm going, but I'm on my way. Having a fine trip, and feeling great." In the middle of June, a card announced, "THE SHIP ON WHICH I SAILED HAS ARRIVED SAFELY OVERSEAS." On June 17, Jake wrote from England, "I guess we will finish training over here. I can tell you nothing more. I am writing my first letter which has to be censored and it keeps me guessing what to and not to say but I would rather it be like this, only saying I'm O.K."
Six days later he wrote, "I am in France now and the other home boys are still with me. Bob Smith, Bert Johns, and I are all in the same squad now, Bob and I are gunners and Bert is a carrier. American flags are as frequent here as is the French."
At the end of July, Jake noted that "the only news we get from the front is too unreliable to pay any attention to, other than that in the papers, so you know as much about how things are going as I do." He did not tell his mother his unit was moved to the front, but wrote in a letter, "this life in the trenches will make anyone feel that way (depressed) at times. We are not dry for a week, eat & sleep in mud two feet deep…"
In September, Jake wrote home that his request for transfer to Paris was submitted "but this may take some time." On Oct. 18, Jake's letter was different from others. His transfer had not come through. He was frustrated with the situation, "It has been raining here almost steady for over a month and the mud we've been reading about the last four years has become a reality. A lot of the boys look for our job to be finished this winter and many say they will eat Christmas dinner home. I'll close for now with love and best wishes to all. Jake"
Then there was silence. On Nov. 30, 1918, Jake's mother received official word that he had died on Nov. 16 ... five days after the armistice was proclaimed on Nov. 11. The eleventh hour of the eleventh day of the eleventh month came too late for Jake. Jake had died of pneumonia at a hospital in central France and was buried at a church graveyard in Allerey, France. His parents took it upon themselves to locate his grave and, on Feb. 26, 1921, Jake's body was returned to Prescott by the War Department. Two and a half years earlier, Jake and the other draftees from Yavapai County left this same depot amid cheers and tears. This time there were only tears. He was interred at Mountain View Cemetery, laid to rest with military honors.
"Days Past" is a collaborative project of the Sharlot Hall Museum and the Prescott Corral of Westerners International (www.prescottcorral.org). This and other Days Past articles are also available at www.sharlot.org/library-archives/days-past. The public is encouraged to submit proposed articles to dayspastshmcourier@gmail.com. Please contact SHM Library & Archives reference desk at 928-277-2003, or via email at dayspastshmcourier@gmail.com for information.