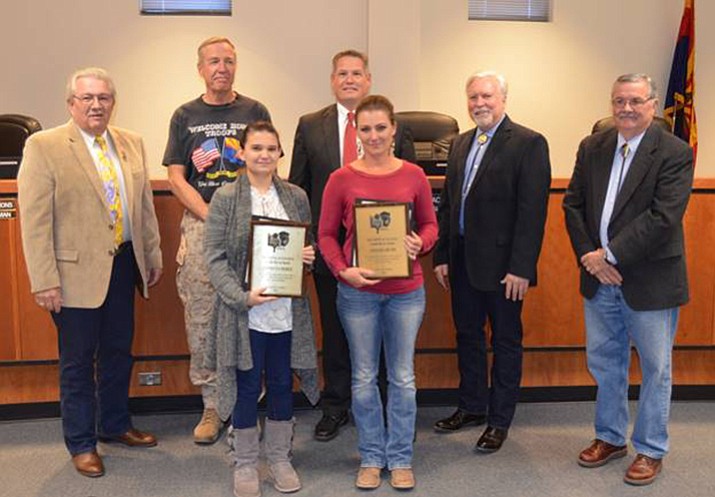 Originally Published: November 4, 2017 5:58 a.m.
On Wednesday Nov. 1, the Yavapai County Board of Supervisors received an update from Paul Chastain, a member of the Prescott Noon Lions and representing the Lions of Yavapai organization, on the work they do to bring corrected sight back to those in Yavapai County that find it difficult to travel or pay for these services.
Paul said "the reason for the eye care van is because the patients can't always come to us, so we bring the van to the patients. The Lions have provided over 400 people this year with eye care and glasses, and many of them are homeless Veterans."
Paul added that due to the lack of entertainment options in the Seligman area many people visit the local libraries where Amanda Hume and Trish Perez work.

"These two young ladies have been critical to our operation in Seligman and Ash Fork. When we come into town, these ladies help us find many of the people that need vision care and assist us in setting up appointments," he said.

Yavapai County Board of Supervisor Craig Brown arranged to have these two ladies invited to the Nov. 1 Board of Supervisors meeting so that the lions could present them with a plaque recognizing their remarkable efforts.

Brown read the plaque: "The Lions of Yavapai would like to thank Amanda Hume and Patricia (Trish) Perez for helping Lions help others in need. They are heroes to so many in Yavapai County that have vision problems."

Brown said, "These two employees are relatively new to the county, and I am very proud of the work they have done."
Yavapai County Free Library District Director Corey Christians said, "The Library District's Amanda Hume of the Ash Fork Branch and Trish Perez of the Seligman Branch Libraries have dedicated their time and expertise to aid in this effort. Their hard work, professionalism, and community-mindedness make them outstanding employees. The work done by the Lions Club, Amanda, and Trish truly improve the lives of those living in their communities."