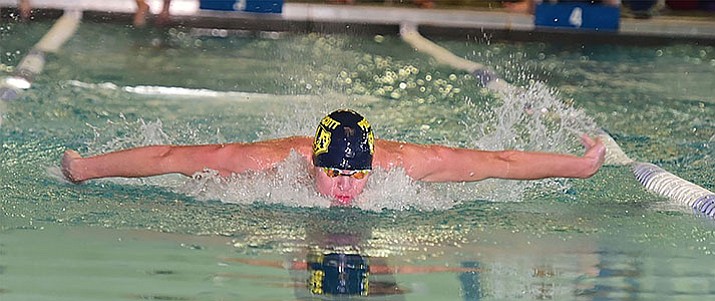 Originally Published: November 4, 2017 5:45 p.m.
Prescott sophomore swimmer Harris Temple captured the first state championship in the Badgers program's history Saturday at Skyline Aquatic Center in Mesa, winning the 100-yard freestyle in 46.92 seconds.
Temple broke his own school-record time in the event at the Division II meet. He also placed second in the 50 free in 21.62 seconds.
The Badgers boys' 200 free relay team of Paul Kinach, Dallin Jex, Tate Bassett and Temple placed fifth, snapping another school record with a time of 1:31.59. Prescott's 400 free relay team placed 12th in 3:26.23.
As a team, Prescott's boys placed 11th out of 35 state-qualifying squads.
On the girls' side, Prescott's 200 medley relay team didn't make the finals (Top 16), but still finished in 20th place overall (2:03.80).
BRADSHAW MOUNTAIN
Bears sophomore swimmer Joshua Baillie finished 16th in the Division II finals of the 200 free on Saturday in 1:50.54. Baillie also placed 12th in the 500 free in 4:54.39.