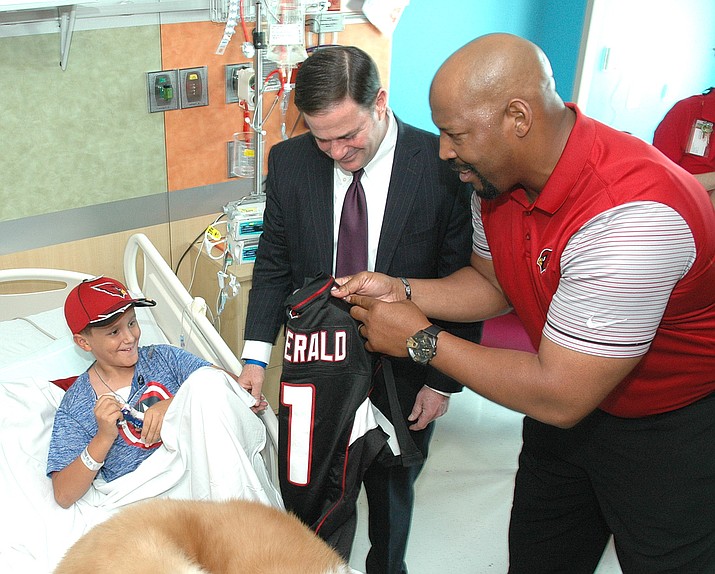 Originally Published: November 4, 2017 6:07 a.m.
Gov. Doug Ducey announced that if funding for the KidsCare program runs out as expected next month, and Congress still hasn't acted to extend the Children's Health Insurance Program (CHIP), he will take money out of the state's reserves to cover costs to keep it going.
That's the right call and the governor deserves praise for making it.
CHIP was created in 1997 and passed with bipartisan support. It provides health insurance coverage to children from low and moderate income families, as well as to pregnant women. There are 9 million American children who benefit from the successful law, and renewing it is a matter of life or death. Many of these families could not afford health insurance for these children without it.
Arizona's version of CHIP is KidsCare, which insures about 22,000 children in this state.
To be eligible, you must be an Arizona resident; be 18 or younger; be a United State citizen or qualified immigrant; have a Social Security number or be in the process of applying for one; be under the income limit; not have health insurance through another means (say, a job); not be eligible to receive Medicaid; and be part of a household willing to pay a premium.
The income limits range from $24,120 for one person to $65,928 for a family of six. Premiums also depend on income and number of people in the household, but ranges from no cost to about $5,500 annually.
"We want to see KidsCare continued," the governor said in a story The Daily Courier published this week after he visited children on Halloween at Phoenix Children's Hospital. Ducey said he has "every confidence" that Congress will act before the funds run out.
But the governor said the state has the ability to deal with circumstances "as they happen."
"It's part of the reason we've been fiscally responsible," he said. "That's why we've grown the rainy day fund."
CHIP expired on Sept. 30 of this year, but most states had enough funds to continue to cover costs. Arizona is among the first states scheduled to run out of money, sometime in December. Members of Congress have indicated they hope to extend CHIP before they take their usual holiday break.
The program costs the federal government about $13.6 billion in 2016 and helped lower the percentage of children who were uninsured from 14 percent when it started to 4.5 percent in 2015.
Kudos to Gov. Ducey for letting Arizona families know that they can continue to count on KidsCare as the date gets closer to when funds are gone.
CHIP has been a successful government program, one that has helped many families across the nation. Congress needs to reauthorize it soon. Lives are at stake.
More like this story