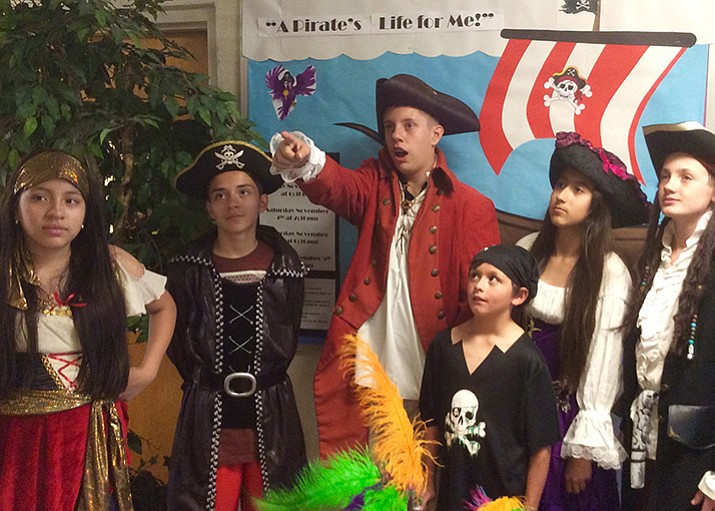 Originally Published: November 3, 2017 6 a.m.
There'll be shivering of timbers and walking the plank this weekend as Sacred Heart Catholic School puts on "A Pirate's Life for Me."
Written by Craig Sodaro, the show is directed by the school's music, choir and theater teacher, Doug McMurrin, who said he's done the show before and knows it's a good one.
"It has a lot of good comedy, some good, fun simple music," McMurrin said. "It's a great way for kids to get acquainted with theater."
All the actors are students at Sacred Heart, 131 N. Summit Ave, ranging from kids in third through eighth grade and for some, it's their first show, he said.
Opening night is tonight – 6:30 p.m. on Friday, Nov. 3, and the show continues at 2:30 and 6:30 p.m. on Saturday, Nov. 4, and again at 2:30 p.m. on Sunday, Nov. 5.
As with most shows, the biggest challenge in putting the whole thing together has been the coordination between different aspects of the production, from the costumes, light and sounds to the kids learning their lines, music and timing as well as the volunteer parents helping with the set and painting, McMurrin said. It's always a challenge to coordinate all of those variables in an effective, yet fun way, he said.
McMurrin said he's enjoyed seeing it all come together and watching the students grow in their theatrical skills.
"These shows we've been doing the last few years have been exciting and they've been doing a great job," he said. "Putting on a good show and seeing the kids grow in their talents and skills is the most rewarding part for me."
Admission is $8 per person or two for $15 and there's a special on Saturday, McMurrin said. If a student comes with a paying adult and brings a can of food, they can get in for free, he said.
For more information, call the school at 928-445-2161.